Yuue design has created a one-piece desk organizer with smart cuts that allows you to organize several items cleverly. This desk organizer has a minimalistic structure and it is convenient to place it anywhere on the desk. Made from a single piece of Beechwood having several gradients, the smart desk organizer is available in bold and bright colors. Due to various shape cuttings in the one-piece desk organizer, you can place the stationery items as desired. So, it is a pleasant stationery arrangement that requires few efforts to keep everything messy in order.
Specifications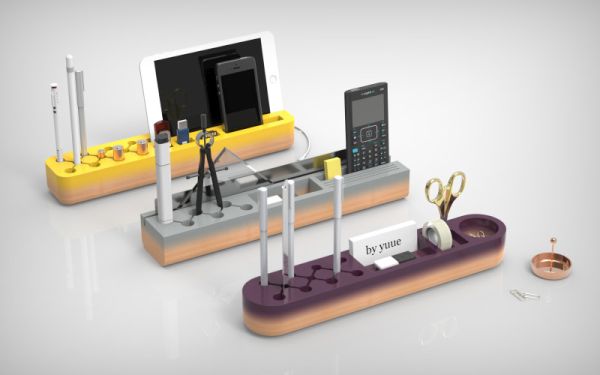 The one-piece Beechwood desk organizer has a matte paint finish that gives it a modern look. The weight of the product is only 500g and the size is 35×6.6x 4.5-centimeter that makes it convenient to carry to your desired work place.
Three types of series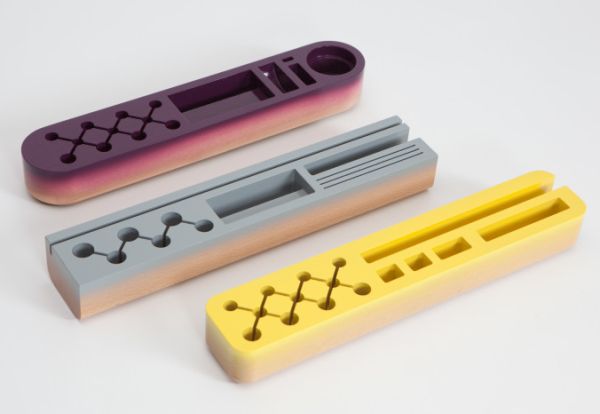 One-piece desk organizer is available in three types: Classic, Architect and Geek. These types are not only differentiated in terms of color but also depend on the type of work associated.  The Classic desk organizer comes in pink and purple color. It is suitable for a regular work desk and provides space for cards, pens, scissors, ruler, clippers, notes etc. Further, the Architect desk organizer has blue and gray color. Creative people who require calculator, drawing equipments and large markers can use it. Next, you have the Geek desk organizer in green and yellow color. It is for people who are gadget freaks and do most of their work using electronic devices. Ample space is available for smartphones, batteries, memory media and tablets.
The one-piece desk organizer is a multipurpose stationery holder that will keep clean arrangement on the desk, thereby avoiding the mess. The product as for now is under development and will soon hit the market shelves.
Source : Yuue-Design.Com