The latest version of Google Chromecast 2.0 is designed to get videos directly from internet instead of streaming from phone.Chromecast 2.0 is a shiny disc attached with a cord that you need to plug into the TV's HDMI port. Once you are connected, your TVwill carry out all Google functions and phone will serve as the remote. The device is equipped with three Wi-Fi antennas that connect it tothe wireless network without even pairing up external devices. The new version of Chromecast is available in yellow, pink, black for $59 at Google store.     
Chromecast audio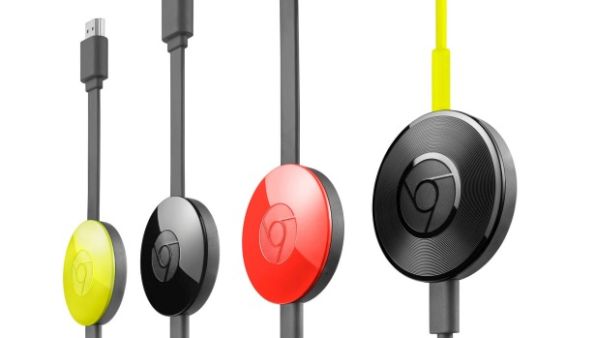 Google has introduced its new Chromecast audio device with 3.5mm audio jack that helps you connect your favorite music from phone to speakers. You can cast your favorite songs to speakers by using Android phone, iPhone, tablet, laptop, ipad and chrome book. Simply by going into the music app and tapping the cash button, you can send music to the speakers.With the help of this device, music streaming has become easier like never before.
Your phone functions as the remote and can manage the device from any corner of the house as Chromecast streams music through Wi-Fi. No doubt, music streaming can be done through Bluetooth also but choosing Wi-Fi over Bluetooth has many advantages. Wi-Fi gives you quality sound presenting the music in more original form, whereas in Bluetooth music is re-compressed. With Wi-Fi, you can even control music from a wide range, while Bluetoothconnection has a limited range.
Chromecast audio provides an easy access to the streaming world and makes your TV, speakers and other audio receivers smarter for music.Now home streaming experience can be more soothing and authentic than ever- as this new device reinvents the way audiophiles enjoy music at home.
Source : Smh.Com.Au