Whatever the size of your backyard, it can be a place where you can design outdoor entertainment. You can relax and have great outdoor parties there. It can be your own space to chill out, and enjoy a staycation anytime you want. Include a spa to soak in and rejuvenate right in your backyard. Here are some tips on how to create a lovely pool and spa in your backyard.
How to create backyard oasis pool and spa
Get rid of the clutter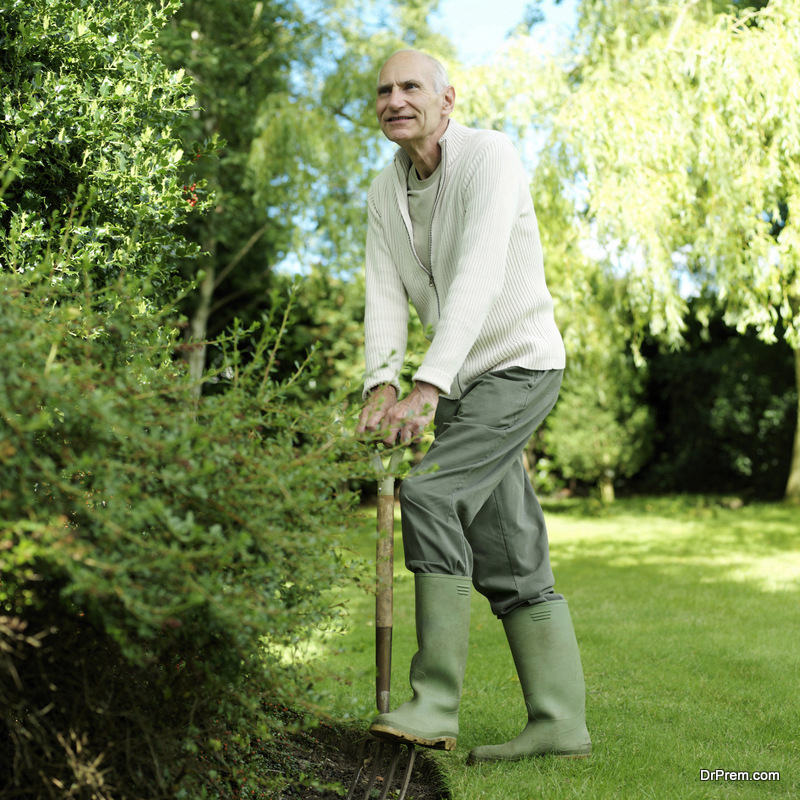 To create your backyard oasis, the first thing you have to do is getting rid of the clutter in your yard. Prune the overgrown hedges and trees, cut the grass, donate children's swings or slides if they have grown out of them, or relocate these. If you're planning a complete backyard makeover, then recycle old, broken furniture as well.
Your living space outdoors can be a space which has plenty of shade, sun, nice views and lots of fresh air. A pool and spa would be an added feature.
Shade
To provide the shade, you can make use of garden umbrellas, pergolas and gazebos, awnings, trees and vines on overhead arbors or roofs. Even in winter when you want to sit in the sun, you should have some cover over your head, as you would still be exposed to the ultraviolet rays. In summer, a shade would make it possible to spend some quality time in the sun without feeling the brunt of it.
A garden umbrella would make you feel like you're on the beach, sipping your favorite icy beverage. Garden umbrellas can create a fun atmosphere even when you're on a budget. A pergola would be the perfect outdoor resort-type personal retreat at home.
Landscaping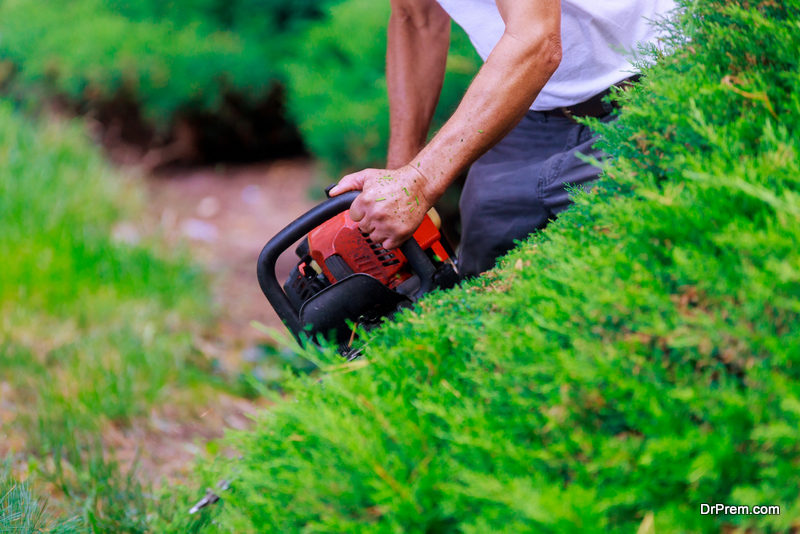 The backyard oasis can't have just any plants. You have to select the plants carefully for best landscaping and yet look natural. Shrubs, trees, vines and perennials which thrive in your climate are the best choice. These can be maintained very easily in their natural habitat. Choose the plants which remind you of your favorite holiday destination, but of course, not tropical plants which won't survive in a non-tropical climate.
Water features
This is the feature of landscaping which will totally transform your garden, and make it a haven you'll love to spend time in. Apart from pool and spa, you can add a small waterfall. The sound of water has a soothing effect. If you are on a budget then you can DIY your own koi pond, or garden pond, or wading pool, birdbath or a miniature fountain/waterfall.
Pool and spa ideas
Hot tubs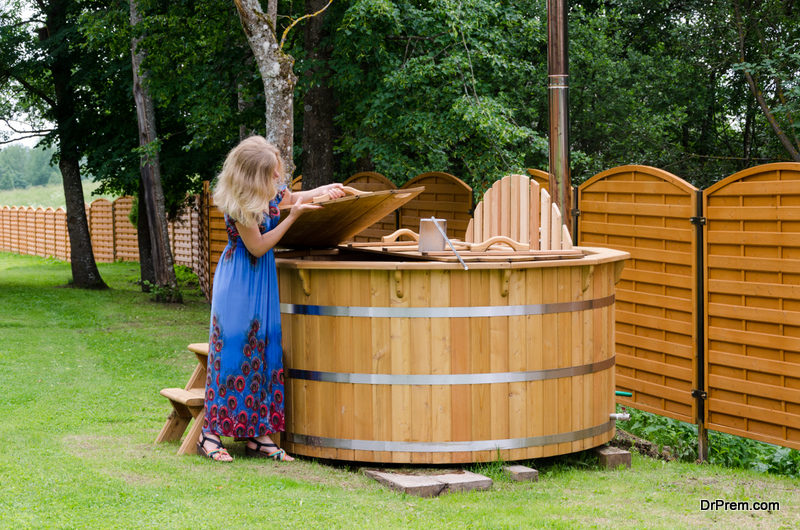 Soaking in your hot tub sounds fun. Depending on budget and space, it can be a hot tub for two or a spa for six people. You can create bubbling hot tub outdoors which can be in-ground spa and looks great or it can be above ground.
Hot tub pool and spa can also be covered with a pergola made out of fiberglass. Double layer plexiglass can be used for durability. Stone floors will add to the design.
Moonlight glow
Create a beautiful moonlit glow in your pool and spa. This lighting can be created with custom designs made from gunite concrete, and Blue/Blue stone with a thermal surface.
Cedar tub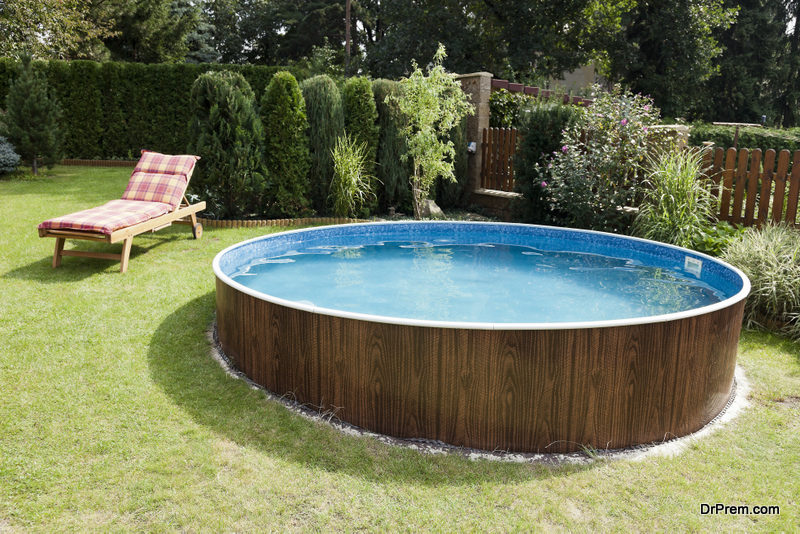 The cedar tub is a wonderful water feature in the backyard, even when you are not using it. You might have to get professionals to execute it as the drainage system of the fountain has to be built into the cedar tub's vault.
Integrated pool and spa
Some people get their spa made right inside the pool. The pool and spa could be shotcrete structure too, with tile finish of your choice.
Claw-foot hot tub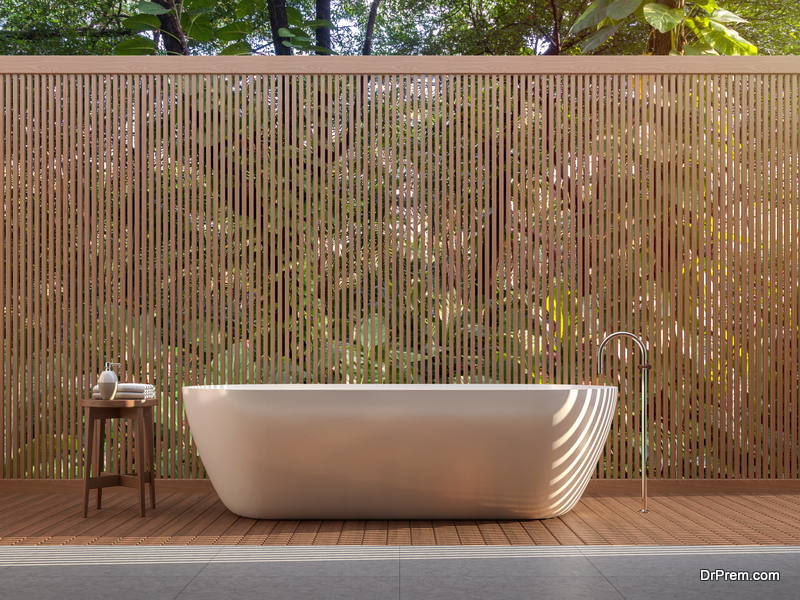 Instead of going for high-end designer tubs, you can just place claw foot tub in your backyard and enjoy soaking in it. The claw foot tub will give character to your character, and you can buy it for only about a 100 dollars. Best if you already have one at home. If you have an old tub at home, you can use that also – why not just sink it into the ground to have a shallow pool and cover the edges with brick and beautiful plants.
If you place the tub near your home, an expert plumber can tap into the existing water heating system at home, thus providing a supply of hot water for your unique hot tub, which will minimize your expense as well. One of the cheapest ways to have a pool and spa in the backyard! You won't be able to swim in the pool, but definitely soak in it for hours.
With all these ideas, you can convert your backyard into an inviting outdoor space, an urban retreat right in your home. Make sure the seating is comfortable too, as it will be a factor in going outdoors and spending some much-needed time outside, whether you want to read a book, plunge in the hot tub or hang out with friends.