Smart DIY hanging storage ideas are the perfect solution for making your home clean and uncluttered. It gives you more space by clearing and shifting all your extra stuff in the hanging storage. There are so many ways you can make your very own hanging storage in every part of your home and they are all very easy. Let's see some of the ideas and tips to make some DIY smart hanging storage to make your life easier and smooth.
1.     DIY Macramé Hanging Plant Shelf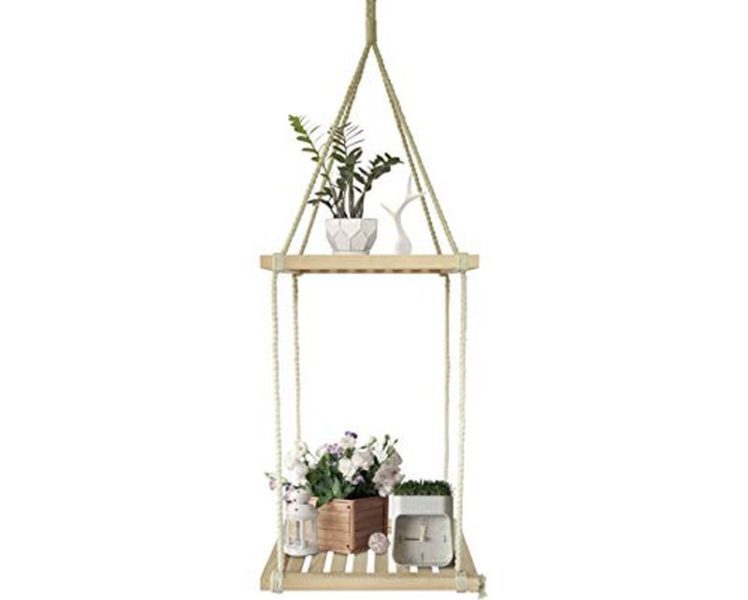 If you have small homes, it becomes really hard to keep those plant and vases in homes. Especially the indoor plants which you have loved keeping at your space. It takes away half of the space of your house and you really feel disheartened to find the best place for it. But with this DIY hanging plant shelf, you don't have to worry and hang as many plants as you want. Let's take a look at how it is made.
Materials required:
twine or jute wire(colorful if you want)
plant pots all in one size
a square piece of plywood
drill
oil or sandpaper to make the platform smooth
Direction:
Draw a circle on the piece of plywood same as the size of the vase. It will be used to put the vases into it.
Now cut the circle and make four holes with the help of drilling, at all the four corners of the plywood. 
Sand and seal the timber as desire and if you make a smooth edge in the timber.
Now with the help of the twine or the jute wire, make a string by making a knot. Make 4 strings to hang the wood with the flower pot into it.
Thread each of the four cords into the wooden base in which the hole has been made at four corners. Knot them underneath to make it strong. Cut the excess thread and make sure the strings are in equal length.
Now your hanging storage shelf is ready, you just have to load the potted plants into your shelf and hang them wherever you want.
Give it a try as this hanging flower shelf looks great and gives a décor to your whole house.
2.     Hanging rope shelf for your bedroom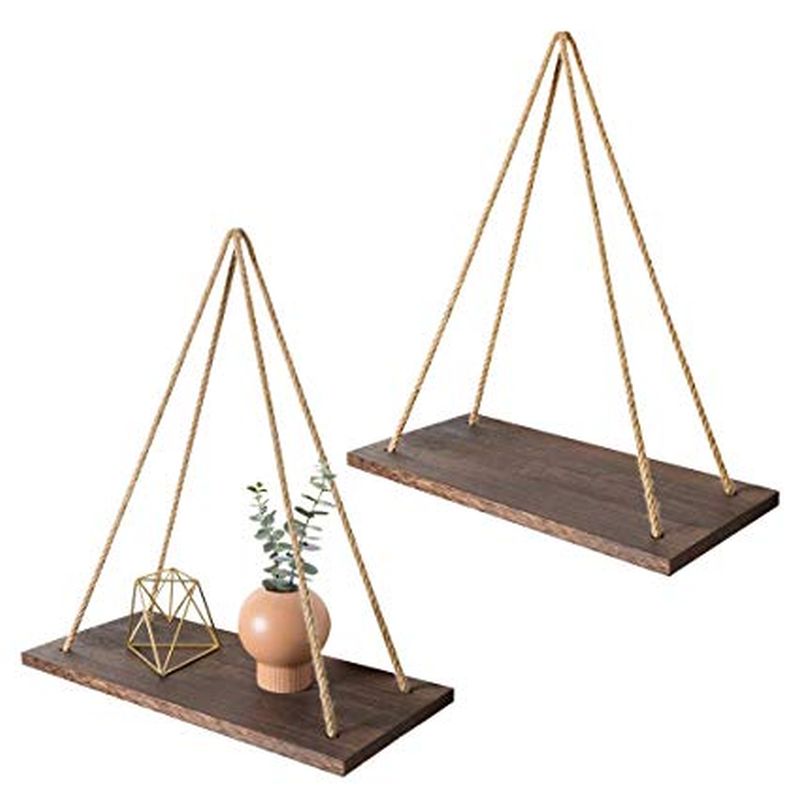 Now, this hanging shelf is really exciting and one of the must-haves at your home. It is the best solution for making your space clean and uncluttered.
Supplies:
Drill or drill press
thick rope
scissors
colors
paint brush
3 rectangular pieces of plywood cut to desired measurements
clamp
Instructions:
Start by preparing your wooden platform for the shelf. For this, you will need 2, 3 wooden platforms. Cut them all in equal size and sand down if needed to make the smooth sides.
Again with the help of drilling machine, make a hole at four corners of the wooden platform. To make it interesting, color the wood with fun colors, this can make a beautiful hanging shelf for you.
Now cut the 4 pieces of rope in equal size and tie it to the entire 4 corners in the wood. Tie a knot at the end of every wooden piece. Place all the 4 pieces in equal distance. Make a knot in between every shelf and cut the extra ropes if requires. Make sure the shelf is straight and in equal distance to one another.
Your hanging shelf is ready. Now you can get it to hang directly to the ceiling to keep up your things. You can hang them close to the wall so that it doesn't spin around and you can use it easily.
3.     DIY Pegboard Organizer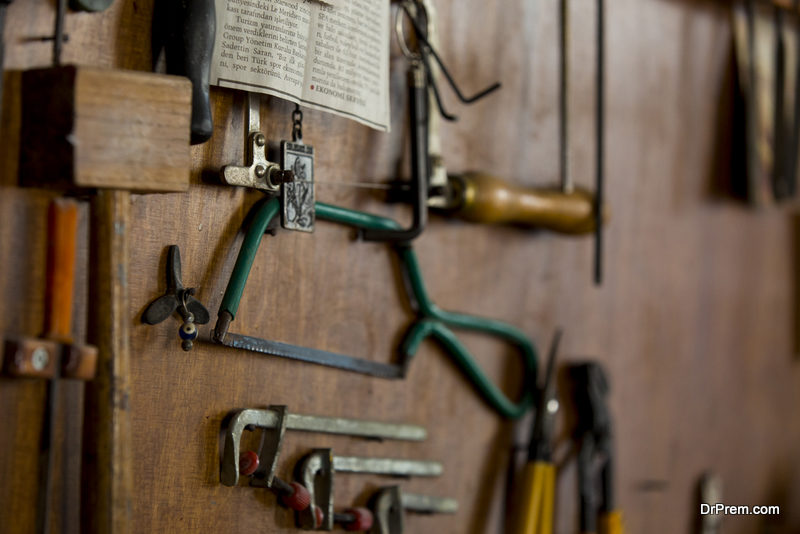 When you have limited space at your home, you always end up keeping your stuff here and there which makes the place untidy cluttered. Accessories like ties, belts, scarves, hats, and so many other things have no particular place into your home. But with this pegboard organizer, now you will be able to keep your stuff easily without making your place cluttered.  The process is very easy and you can DIY pegboard organizers at home.
First, de-clutter your house and starts with buying a piece of pegboard and 2 wire basket from local hardware store same as you use in the bathroom or in the kitchen to keep the essential.
Frame it now to match up with your wall décor. You just have to select the space and with the help of screwdriver mount it on the wall, and now hang the wire baskets in the wall. It will be like a hanging shelf in which you can be able to keep all your stuff and crafts.
This multi-usable shelf is ideal for bathroom space, kitchen or you can also use for your bedroom as well. The all in one hanging storage shelf.
These DIY's are really helpful and most important you can make them on a budget. You just need a little creativity and a little time to create some innovative hanging shelf which will prove beneficial to you.