Want to reinvent your shelves according to need and look, then Shift's new tendency rearranging shelves are a good choice. Bringing function and design innovation together in a single piece of furniture, this sideboard can be arranged vertically/horizontally/ against a wall or as you please. Being adaptive in usage, these shelves can be rearranged as per your choice. For the people who appreciate a drift from the regular, these sideboards when placed on top of each other can be moved horizontally to complete every need.
Redecorate your home, hassle-free
Redecorating requires rearranging, which in turn puts you at the crucial task of moving around furniture and some serious heavy weight lifting. Now your shelves come with a unique design that enables you to shift around your content with ease. The Shift Sideboard can be twisted/ turned and placed as you please, making your home transform within seconds.
Multiple options, one solution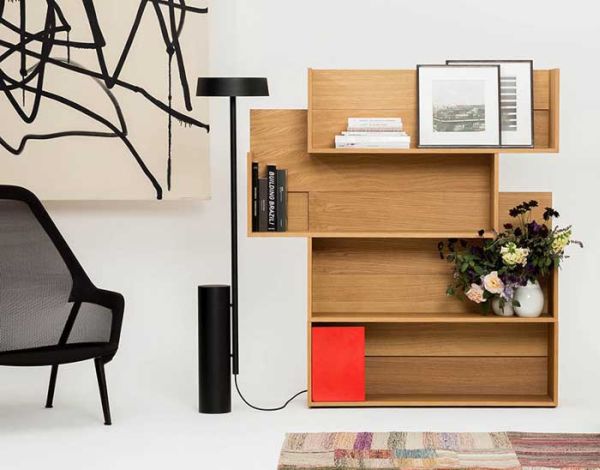 The sideboard can be placed against a wall, or be free- standing. Stacked on top of each other vertically or moved around horizontally. Getting to store your content as per choice and need, requires just a twist and turn on the sideboard, which by the way can make 180-degrees turn.
Product details
Shift was the winner of the Interior Innovation Award in 2014 and has come up with another winner in interior redecoration. The shift rearranging shelves are 68x200x33 cm in dimensions and weigh 80 kilograms in totality. No compromise in quality means your Shift shelf is a certified Oak veneered wood that comes in two colors, white or natural. Costing 1,800 euros the shelves are available for sale and delivered within 4-6 weeks to your doorstep. The buyer can choose from two different styles of the upper element- closed top or one closed one open top.
If are looking for shelves that transform with the blink of an eye to blend in with your ever changing interiors, with Shift Shelf sideboard you have struck gold.
Source : Vurni.Com