Moving house is often associated with being a stressful time. Yet while it can seem dominated by paperwork, paperwork, and more paperwork, a shift in living location can also allow your creative juices to flow.You now have a new space, new appliances, and new and intriguing natural lighting situations to deal with. All of this is basically one big excuse to unleash your inner interior décor designer and get weird with what you've got available.
With that in mind, here are a few tips for getting creative while decorating a new home.
Thrift for new furniture…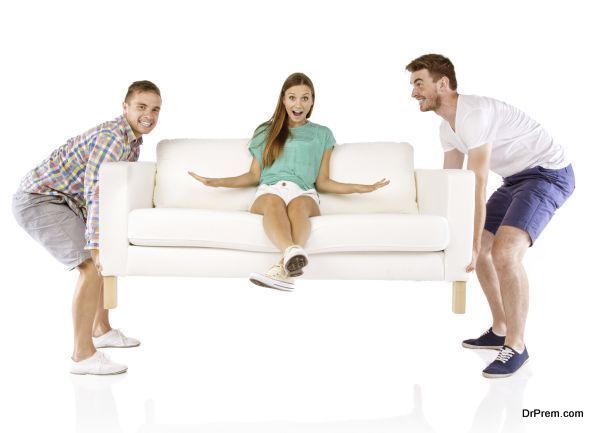 One of the best ways to get creative with a new house is to update your furniture by thrifting for new (or rather, new to you) pieces.
A pop of colour in the form of a retro pink bucket chair can liven up a new living room in no time, while a sleek new corner desk will make working from home feel positively luxurious. And once you find those key pieces, the rest of the look will come together.
But perhaps the great thing about thrifting for new furniture and standout pieces is that you can get started on it before you even move house…as long as you know roughly what space and budget you're working with that is!
It might seem counterproductive to do this—because you'll have to store anything you buy in your current home for a little while—but the feeling of moving into your new place with all the building blocks for your perfect interior décor already prepared makes it well worth it.
Plus, the right movers will help you get everything transported safe and sound. We recommend checking out buzzmove, the removals comparison website, to find the right removals company for you.
…and say goodbye to old, worn-out pieces
While you're picking up new stuff, you may realise just what you need to get rid of too. Whether it's a threadbare rug that you never really liked anyway or the million and one trinkets that clutter your window sills and mantelpieces.Now is the time to ditch them all.
Throwing stuff away may not seem creative, but the purge will let your imagination really run wild. You'll now be untethered by the limitations of all the old tat you currently own!
Or, repurpose some of those older knickknacks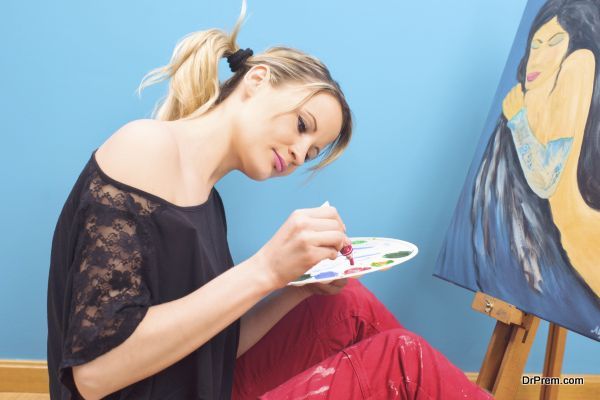 You might find as you're going through the inventory of your current house that you have plenty of items that aren't really adding anything to the 'look', but still have a place in your heart.
Old university t-shirts, thousands of postcards collected from your travels, funny drawings that your partner, friends, or kid created that you can't part with. The list is endless and the time is now to do something crafty with them.
Those old university t-shirts can be easily upcycled into cushion covers for your new office or den; the postcards can be artily arranged in a bold photo frame and take pride of place in your kitchen or living room; those cute drawings can find a home in the bathroom, to add a touch of quirk to a room that often just gets stuffed full of seashells and other nautical touches.
The world is your crafty oyster when it comes to really doing something with the things you already own.
Choose a colour theme…or don't
Picking a colour palette and sticking to it can make a new home look cohesive, while allowing each room to have a personality of its own. However, it can sometimes get a bit boring if you don't know what you're doing.
For example, you might want to paint each room in a clean, classic white, before adding pops of colour through plants, wallpaper, and that aforementioned thrifted furniture.
Basically, less is (usually) more with colour, but that doesn't mean you need to keep everything neutral.
Mirrors are your friend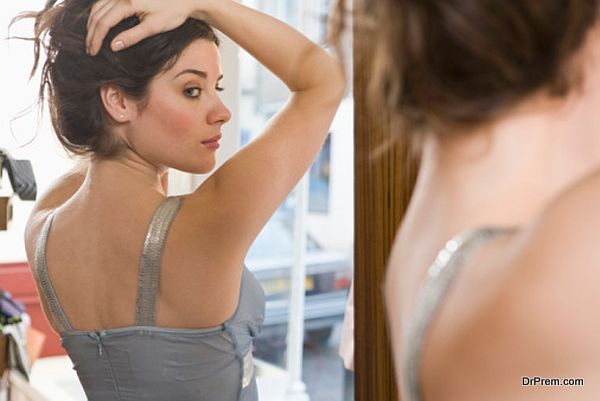 Whether your space is a sprawling mansion or more on the cosy side (which is estate agent speak for 'tiny'), mirrors should feature heavily in your décor. Not only do they add space, making rooms seem airier than they really are, they're also downright useful.
Think about how many times you've needed a mirror and there wasn't one to hand. Frustrating, right?
You don't need that negativity in your creatively decorated new home.
Lighting sources need to be varied
While we're on the topic of manipulating the lighting, you'll also want to get creative with your lamps, bulbs, and string light situation(s).
Natural light is all well and good, and should be taken advantage of where possible through those strategically placed mirrors, but once it drops dark, you'll need lamps.
For rooms which need 'ambiance', like bedrooms, adding strings of fairy lights and muted lamps near the bed might be a good idea.
For the kitchen, you can probably get away with using overhead LEDs. And the bathroom might need a mix of both – depending on whether you're having an early morning shower or a late-night relaxing bath.
Don't forget the doors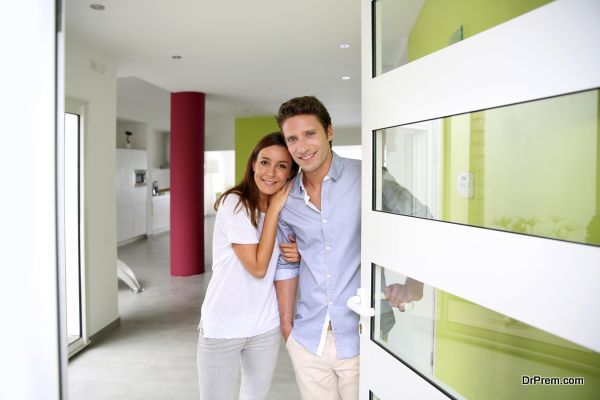 Finally, jazz up the front door. Nothing can bring a house more into its own than a quirky front door. Maybe you want a colour that ties in with your chosen colour palette, or perhaps you just want a sunshine yellow or brick red welcome for visitors to your new home.
Let your bookshelves speak for themselves
You might have a fierce collection of books that need cramming onto the shelf and while that might be practical, it's not very aesthetically pleasing. Your house is not a library (unless you have room for a library-esque nook, that is, in which case embrace it!).
Bookshelves should be rearranged so that they're appealing to the eye. Stack some books 'normally', while letting others lie flat. If one has a particularly cool cover, show it off!
And don't be afraid to intersperse the books with succulents, photos, and tiny lamps.
Again, there's no right answer, but be brave in your choices. It'll pay off.
We hope these tips have given you some creative inspiration for your new home. Do you have any more ideas? Let us know in the comments. 
Article Submitted By Community Writer