Surrealistic décor adds an intriguing factor to your home. Surrealism décor is elegant, stylish and is a leap from the ordinary to the extraordinary. Made famous by the great artist Salvador Dali, this art form is imaginative and a representation of reality in a completely different perspective. While looking for surrealistic furniture, look for a dreamlike quality, levitating objects and irrational beyond explanation. Check out these pieces of surrealist furniture you could add as focal points to your home.
Eye catching surrealist furniture for modern homes 
Upright bed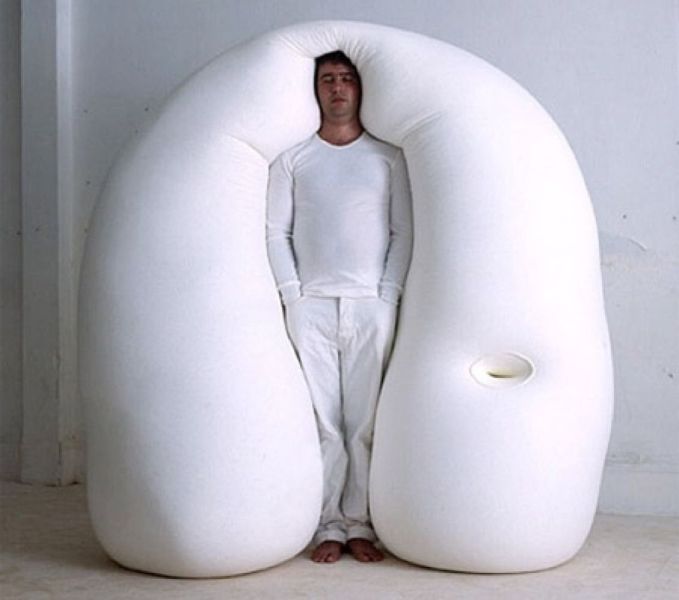 As beds go, 99.9% of bed designs are of those where you can lie down horizontally. This bed however, defines all conventional bed designs, as it is upright, instead of horizontal. If you can manage to sleep in a bed standing up, then this bed is for you. Or else, just display it as an interesting piece of furniture in the home.
Vampire sofa
This bizarre sofa could be your tribute to surrealism. Designed like a very realistic open coffin, you would expect it to be the favorite of a vampire who rests in it from time to time! But seriously, it could stand out as an article of furniture which will give your guests much to talk about.
Octopus Chair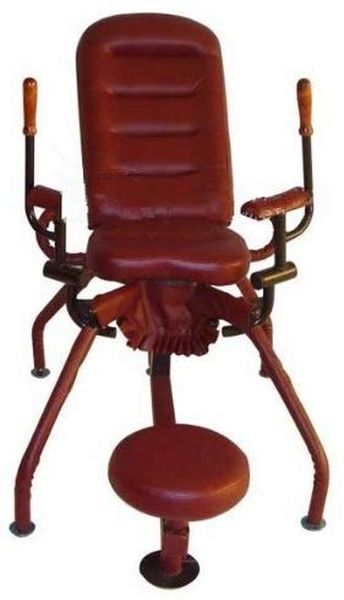 This chair can definitely be classified as unique modern furniture. The Octopus Chair is not for you if you suffer from claustrophobia. But if you want to provide a unique experience to your friends and family, then can sit in this chair for the most awesome experience. It could be great for homes with unruly children.
Cobra seat
The cobra seat is just as bizarre as the bizarre sofa design above.  The chair is fascinating and absolutely beautiful and riveting. Furniture in the style of scorpions and snakes are stylish, eye catching and definitely would fit in with any modern décor.
Staircase storage
This is not furniture meant for homes with small children, as there have been too many furniture related accidents involving small children. The tall storage, reaching up to the ceiling is best for small homes where a ton of things can be stored. It's called staircase storage as the lower cabinets, drawers and cupboards can be used as steps to reach the upper storage sections.
Gold and bronze leaf Tracchia table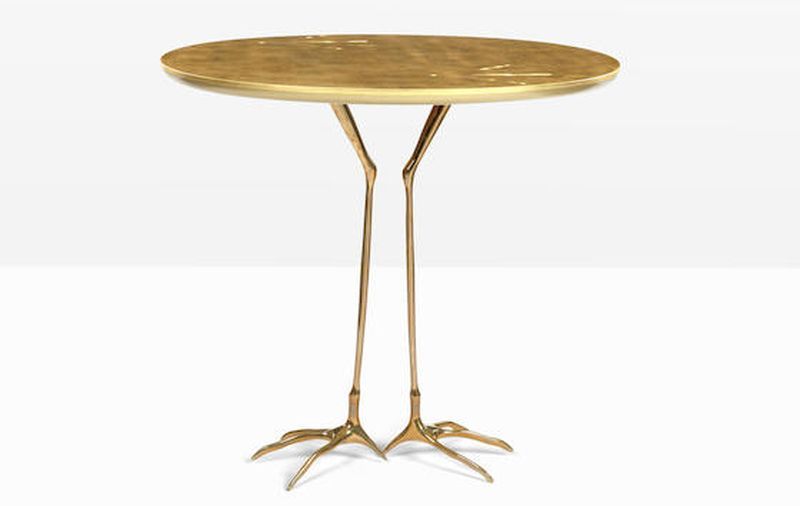 One of the most famous examples of surreal furniture design, this table was designed by the Swiss artist Meret Oppenheim. It is now available at the MoMA. The difference in the table is that instead of the legs, the artist made the incongruous addition of bird legs.
Floating mirror
This unique mirror looks as though it is floating in the sky. Its trapezoidal shape is also not the ordinary shape of mirrors. It reflects differently too, depending on where you stand. Available in the MoMA store of design, you can buy this or look for something unusual for your home, taking this as the inspiration.
Capstan Table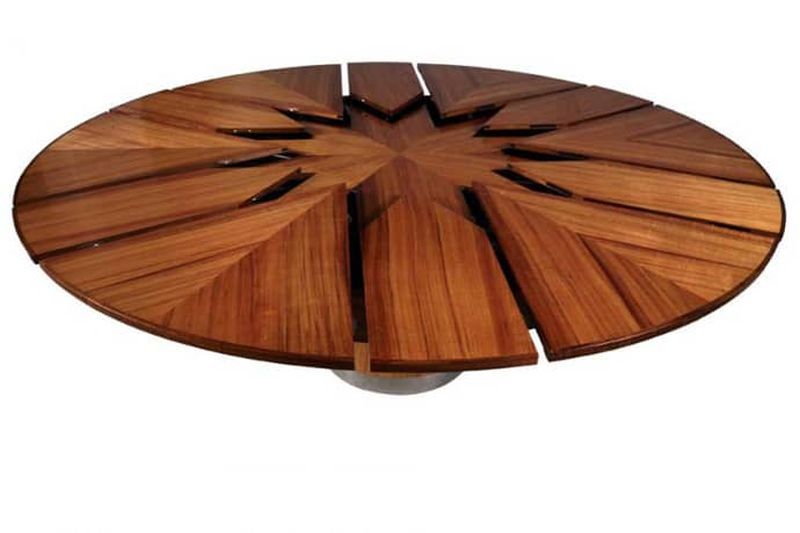 This table, designed by designer David Fletcher, is an extremely useful piece of unique modern furniture. The chic round design hides the fact that it can be expanded to form a much larger table. The round shape is maintained and a beautiful star is formed in the center.
Pencil chair
Only a surrealistic designer will come up with a seating solution such as this one. Made from pencils, it replaces wood and the weak pencils are combined together to make a strong chair. You can try to DIY this idea, but just be sure not to put the points of the pencils facing up!
Barrel bed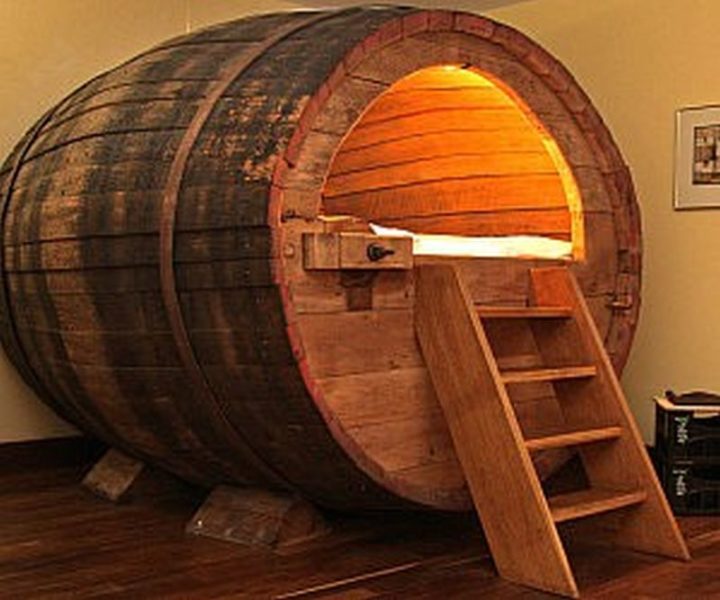 If you don't mind sleeping in a narrow, confined space, then this bed is perfect for you. It looks exactly like a barrel, and for those who love to be cozy and warm, and don't need a big bed. There's no chance of anyone falling out of the bed, in this bed!
Art chair
When you look at these chairs they look exactly like paintings, and not items of furniture. When you go closer, you realize that these are actually 3D artworks which you can sit on, as the seat has been carved into the works of art. The illusion that it creates makes it suitable as the surrealist furniture in your home.
Pool-dining table
Having a fun pool table is a luxury for most homes. This one is an opulent example of surrealistic furniture with dual function of pool and dining. The materials used are gorgeous and the design stylish enough to be chosen as surrealistic furniture for your home.
Pedro Freideberg tables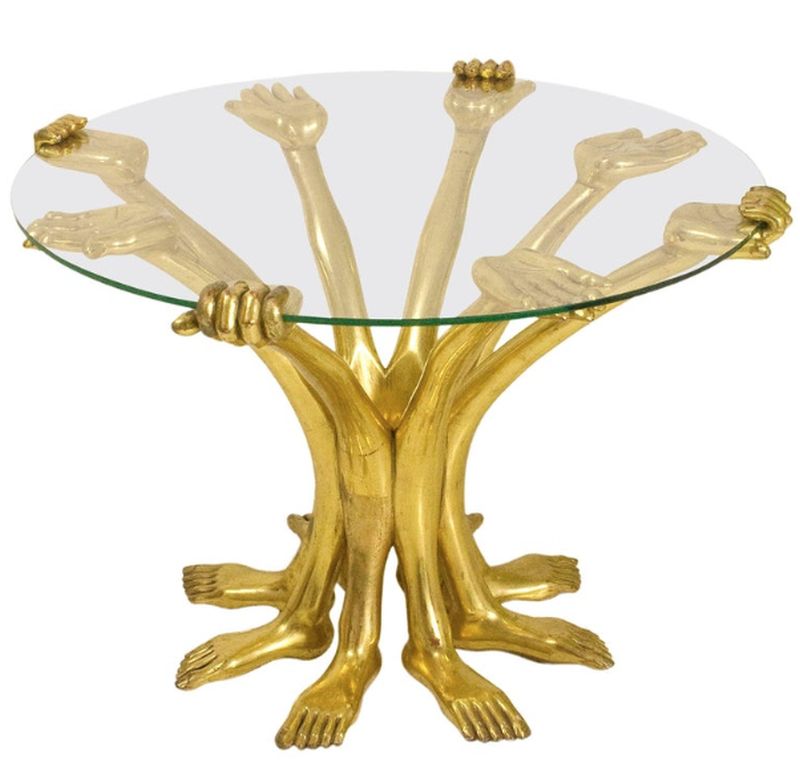 There are several tables designed in the surreal furniture design by the artist Pedro Freideberg. A number of them feature hands and legs for the top and legs, instead of just plain wooden legs. There is one in which the hand is the top and three legs for the support. Another table has a glass top which is held by three hands as the legs. His works borderline on the 'crazy' and out-of-this-world, and inspires more than curiosity in people.
Reversible table
We just love this amazing reversible table which is efficient and versatile. The inward facing table can be reversed instantly into an outward facing one just by turning it upside down. A true example of furniture which transcends conventions and reality.
Surrealistic dresser
This dresser from the Six Different Ways functions as dresser as well as a statement work of art for surrealistic design. That's because one of the drawers is bright red in color and too long to be closed. It is functional yet jolts you out of your sense of proportion or conventional ideas about dressers.