While LED lamps are becoming popular as a convenient and affordable source of lighting, Argentinean designer Francisco Gomez Paz has created Candela lamp that uses a smokeless flame to generate electricity. Designed for Danish-Italian lighting brand Astep, is a contemporary take on traditional-looking lanterns. Here a full insight into the Candela lamp.
Concept
The minimalist Candela lamp is inspired from traditional Scandinavian lanterns and uses a small flame to produce electricity that can further be used to power LEDs and charge a battery pack to fuel up your phone. The lamp design brilliantly uses 19th century scientific technique of heating differences for producing electricity. Heat energy generated by a small flame produces enough power to brighten up an entire room, while charging your phone or other electronic gadgets.
Design and working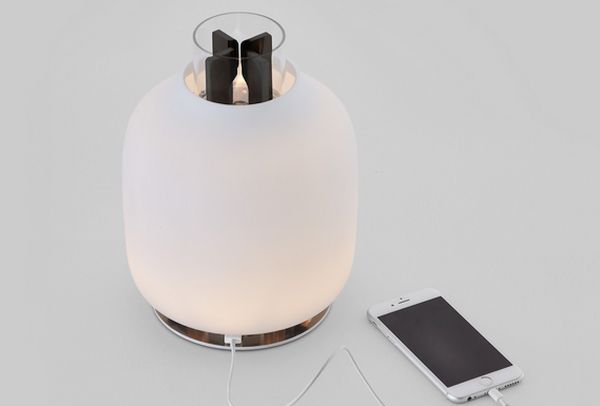 The lamp looks like a small vessel that consists of hand-blown Czech glass shade. At center it holds a refillable aluminum canister that contains bio-ethanol fuel to ignite flame by burning fermented corn. Its wick is made out of ceramic fibers and furthered coated with aluminum powder for longer life span. When lit up the flame generates soft ambiance of light to enhance the surrounding atmosphere.
Besides lighting up a room, the flame heats up the canister and a thermoelectric generator to produce electricity. The surplus heat energy is store in a battery cell and can further be used for charging your phone or other electronic gadgets. The generated electric current is basically the result of changes temperature differences. This whole phenomenon is based on thermoelectric process that was discovered in 1820s by German physicist Thomas Johann Seebeck.
Candela lamp is 24.1 cm tall and 18.6 cm in diameter and comes in smooth finish. It is perfect for both indoor and outdoor use. The lamp offers a minimal yet futuristic way to light up your living space without depending on external sources for power.
Source : Astep.Design