Looking for sophisticated and technology loaded kitchen for your ultra-modern living space? Have a look at this innovative kitchen that takes its cue from nature. Twenty-year partnership between Snaidero and Pininfarnia has resulted in the formation of another innovative kitchen design, Aria. It is perfect blend of Italian style, cutting-edge technology, design and practicality. Let's find out more about this urban kitchen design.
Inspired by nature
As mentioned before, the design of the kitchen is inspired by nature, featuring a tree-like shelving unit at one side, along with attached overhead lighting. The main structure of the wing-like kitchen is modern and streamlined, from cooking area to the cabinets for storage. Overhead circular light is reminiscent of the dazzling Sun. Besides brightening up the cooking area, this lighting fixture even doubles up as a range hood to vent out smoke and odors while cooking.
Design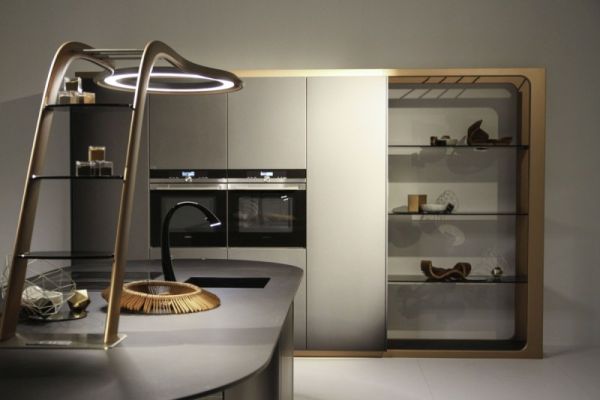 The kitchen fully consists of carbon fiber finish that helps he lighting fixture to be the highlighting part of the entire section. To add exquisiteness to its design, a special varnishing technique has been applied soon after copper blend application. Moreover, a single time hand-finishing adds fine texture to its aesthetics. On the other hand, the LED light consists of polycarbonate that's based on a 3D printing technology. The amalgamation of design, technology and superior lighting has given whole new aspect to the futuristic kitchen.
Kitchen loaded with high technology
Aside from the high-end kitchen countertop, other sections of the cooking section are also integrated with latest technology. Polysil coating treatment featuring various nano-molecules add soft and velvety touch to kitchen doors and cabinets. This treatment also makes the doors fingerprint-resistant as well as dirt-repellent.
This kitchen is the ultimate example of futuristic cooking spaces that are going to be the epitomes of technology and sophisticated design.
Source : Homecrux.Com