Having a makeup vanity is not a luxury, when you can easily make one which fits into your space. These ideas will definitely resonate with you and make you see the possibilities of creating a unique makeup vanity table for yourself. You will have your own little corner to peacefully sit and apply your sunscreen and makeup in the morning! Here are some of the easiest DIY makeup vanity table ideas:
6 DIY makeup vanity table ideas
1. Floating shelves makeup vanity table
Floating shelves are so useful, they can be used in many different ways around the house. A makeup vanity table can be made from any plank of wood you may have lying in your attic or garage. These shelves, one, two or three of them, can be bought from thrift stores or garage sales, as well. You could buy them online too.
Attach the shelves to the wall, and add a gorgeous wall mirror and a stool to sit on. Accessories such as a faux fur rug would create a wonderful glamourous corner in your home. For an example makeup vanity , you could check out the following link
https://www.jaxpety.com/corner-small-makeup-vanity-table-flip-mirror.html 
2. Wall shelf with mounted mirror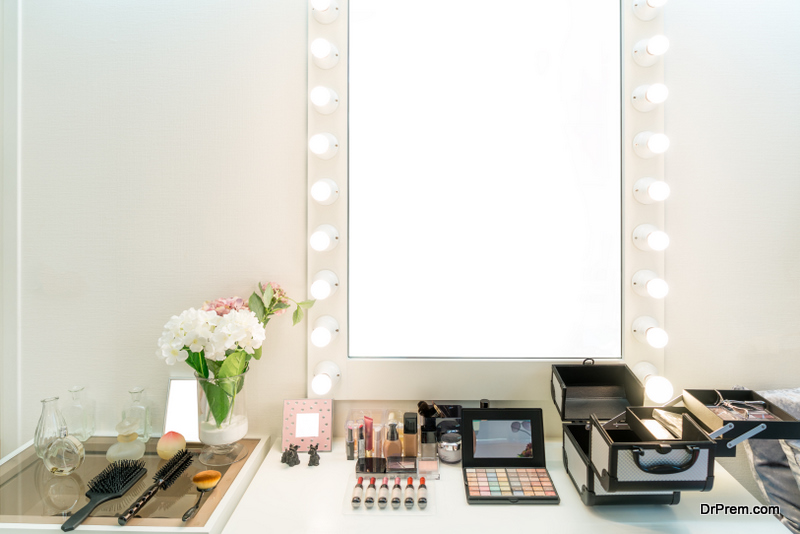 This idea for a DIY makeup vanity table is perfect for those opting for a minimalistic style or if there is hardly any space in the home. All you need is a small sized wall shelf, and hanging mirror. With just these two articles, you can set up your makeup corner. 
3. Repurposed dresser makeup vanity
Old dressers can be repurposed and converted into the most lovely and gorgeous vanity. It can be painted in a bright white color, or any color you choose. Painting it would make it easier to maintain. You could buy an old dresser from antique or vintage stores. Or ask your family and friends if they have one which they no longer use. This DIY makeup table idea is one of the most affordable ideas.
4. Barstool makeup vanity table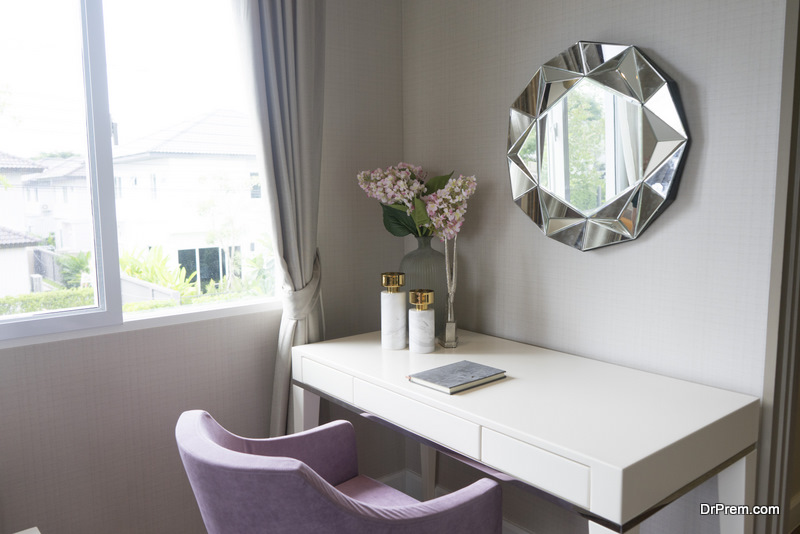 You would never expect barstools to be used for making a DIY makeup vanity. It is actually a very affordable idea, as you need just two wooden barstools, and some wood to make the table top. Paint the barstools in a vibrant color, or one which matches the theme of the room.
Then, cut the wooden board and fix it on top of the stools, which will connect them and create the top of the vanity. The next step is to hang a round mirror to make an appealing and attractive makeup corner. This idea will work out well for your teenage daughter's room as well. For storage, plastic boxes can be fixed on the barstool's legs. 
5. Corner vanity
To make this corner vanity, put drawer chests along each of the walls. Leave the corner free. The storage units can be connected with a curved plywood which would also be the tabletop. Add extra baskets for storage, and a mirror at the corner using brackets.
The mirror can be flanked with floating shelves to create extra storage. A beautiful light fixture will make the whole arrangement bright and inviting, and add charm to your room. 
6. Glass Top makeup vanity table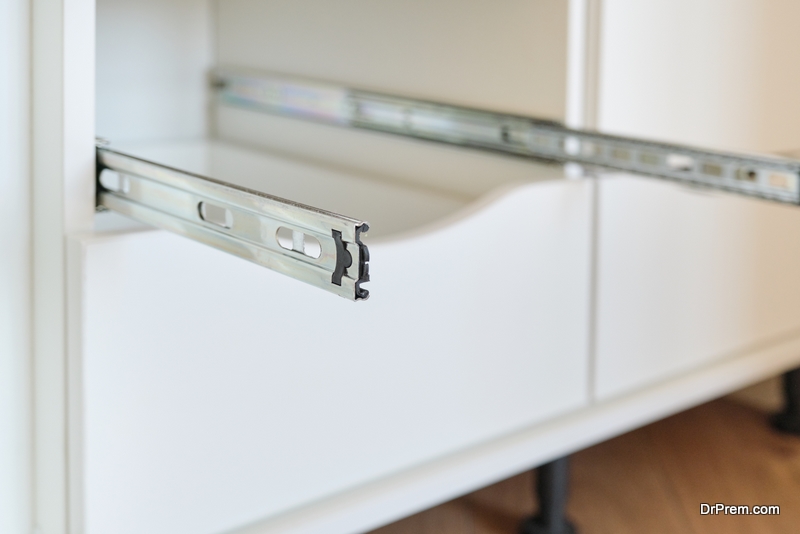 Instead of using plywood or wood for the tabletop, you can use glass for the top also, in any of these ideas. Or you can leave space and cover the wooden top with a glass top, which would create space for your makeup items. Just add a few plastic or wooden or papier mache baskets to store your lipsticks, eyeliners, nail polish, and so on.
Add lights to the mirror of your vanity table to give it a luxurious, Hollywood style look. It is quite easy to DIY a vanity table which looks great and is functional as well.
Article Submitted By Community Writer