Shaker style kitchens are one simple, classic, functional and at the same time a very versatile kitchen style. Shaker kitchen is very old and it is something which gives a very effortless look which continues to look fresh for years and years. Shaker kitchen is timeless and it doesn't have to be incorporated with fussy design or molding. There are some easy designing ideas and tips to give your shaker style kitchen a new and innovative look.
1.     Style with terracotta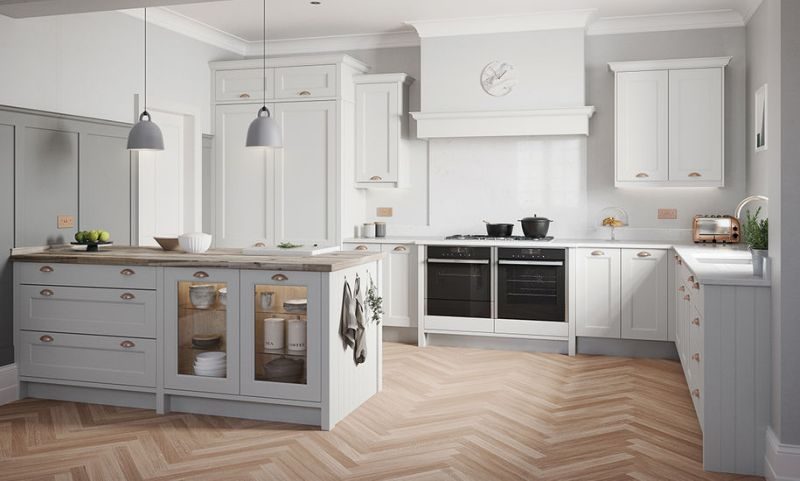 Shaker style kitchen is one classic one which is ideal for giving rustic kitchen look. Terracotta tiles work best with the shaker style kitchen and its one of the oldest yet classic style to give your kitchen a rich and new feel. You can add a freestanding cupboard which matches the fitted units on your kitchen. Including a modern island or slim classy vintage, table not only enhance the look but add warmth and character to your space. One of the favorites of shaker style kitchen is tongue and channel paneling which gives a space a coastal and laid back look. You can make the channel to get it to fix vertically as well to make it more traditional.
2.     Style with open shelving
One of the design ideas is open shelving's which is very much in style with shaker type kitchen. It looks great and adds texture to your place. Whereas the open shelving's are not for everyone especially when you hate dusting as dusting can be a part of your daily routine. If you want to avoid this routine, you can go for a glass a facade cupboard which is ideal and keeps your stuff protected from dust. Protect from dust, oil, grease and cooking particles. It makes your kitchen more spacious as it opens the space in between, unlike the solid doors which make the shelf stuffed and closed.
3.     Show your favorite tools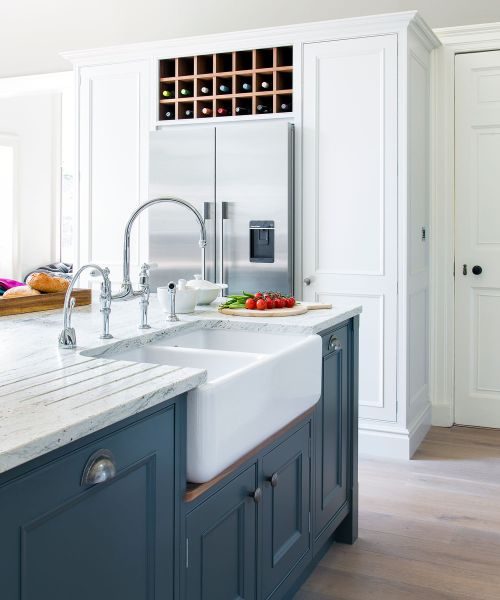 One of the design ideas of shaker style Kitchen is they are made just perfect and have the right type of storage to keep the items in them. For keeping and displaying your favorite plates and other things in the rack which attracts the people as soon they enter into your kitchen. Make this open shelf especially for displaying your chinaware. Show off your favorite design and kitchen like plates, pots and other china items. Make sure that whatever you keep on this shelf is your favorite and it looks good and assembled; do not make it messy as it will take away the beauty and charm of the space. The highlight of this shaker style kitchen is some very little drawers were added to the wall cabinets as it is really helpful to keep those small little things into it, like spoon, bag clips, daily packets or teabags which you always end up putting here and there but with these little drawers, it's easy to keep your space clean, clear and uncluttered.
4.     Choose reclaimed furniture for shaker kitchens
One of the best ways to style your shaker style kitchen is to use vintage and classy furniture in it while renovating. For this, you don't have to spend a lot, just some addition which you will find very conveniently and easily. Visit the nearest flea market or old market where you will get old chairs, a shaker chair with woven fabrics in it. Or you can just go for any country style chair to give the look of the vintage style. Make space for the main table in wooden and vintage style painted legs. It will be a perfect finish for your kitchen to make it more stylish.
5.     Add some character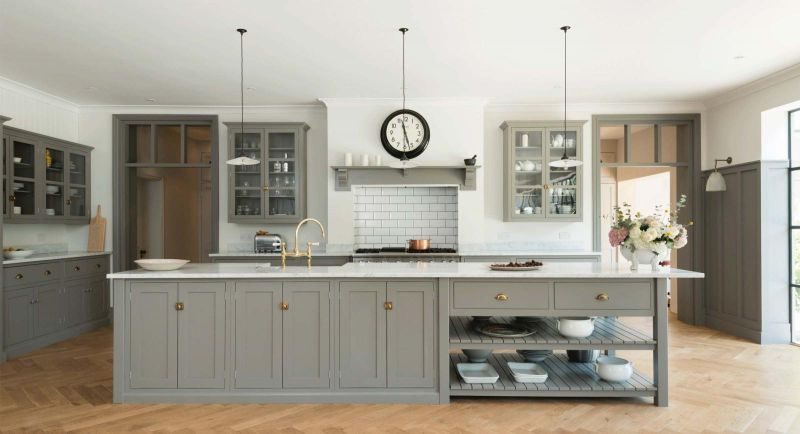 Provide your kitchen island with some characters and colors. Some colors at the countertops can be provided to make the place colorful and lively. It is not important and you don't have to always use the subtle color theme only, you can give some pop of colors for making it more prominent and effective. With sleek and clean lines, color matched worktop with vibrant silver or steel handles and knobs can make your kitchen attractive. You can also add a pop of colors with some flowers and vases. Or one of the ways is to have colorful chair covers or cloth to add colors and texture.
6.     Create a hidden space to maintain the hygiene
Try to keep your kitchen clean by hiding all your appliances behind simple door and cabinets. This makes the place open, spacious and seamless. One of the interesting ways to create storage in shaker style kitchen is the peg rail. Peg rail is the simple strip of wood with a round hook which is used to create a wall storage space which you can use in any free wall. It is helpful to store broom, hats, coats, bags, apron, kitchen tools and even chairs while you want extra space or clean the room.