Outdoor decoration in Christmas is as important as indoor décor. It's the time of the year when you make every corner of your house sparkling and beautiful. People often get stuck as for how to make boring balcony interesting and decorate it. But as you decorate your balconies, it in a way gives an appearance of overall decor of your house. So why not make it interesting by some cute and beautiful decorations. Let's have some idea to work on balcony décor this Christmas season.
1.     Christmas tree Decoration at the balcony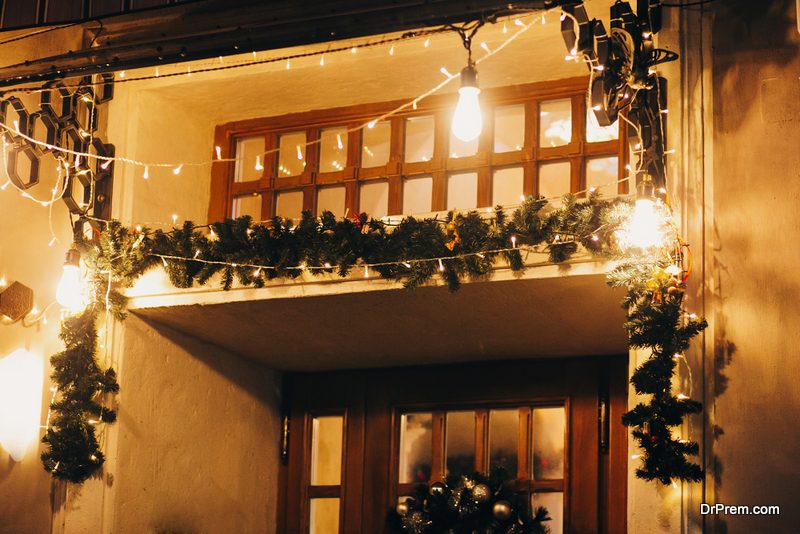 The most important part of Christmas is Christmas tree and how can you not include a cute little Christmas tree in your balcony which is incomplete without it. At first, according to the size of your balcony, select a new Christmas tree to place at the right place. For the decoration part, decorate the tree with lots of golden lighting which is just perfect for the outdoor décor. Place some Christmas décor and props on the tree with snowflakes to give a proper winter feel the effect. Some gift boxes with bright colored gift wrapping papers around the Christmas tree for the guest will enhance the look of your décor. To make the place more appealing, buy glitzy reindeer to place it near the Christmas tree which will help the décor stand out properly giving your balcony a unique touch.
2.     Winter Wonderland Balcony Décor
Now comes the part where you have to decorate the balcony to give a winter feel wonderland. First, add a nice white curtain to start the look; flowing curtains will give a nice base to your decoration. For the lightings, decorate with sober and warm lightings. You can use some silver and white colored chandelier and string lights to get the winter and Christmas feel.  Don't just buy lights but also make effort to DIY the lightings in the balcony. Some handmade snowballs, Mason jar hanging lights can be made interesting. If you want to make it, try out some DIY ideas on the various websites to view the step by step tutorials and make own decorative lightings.
3.     Jingle Bells Balcony Decoration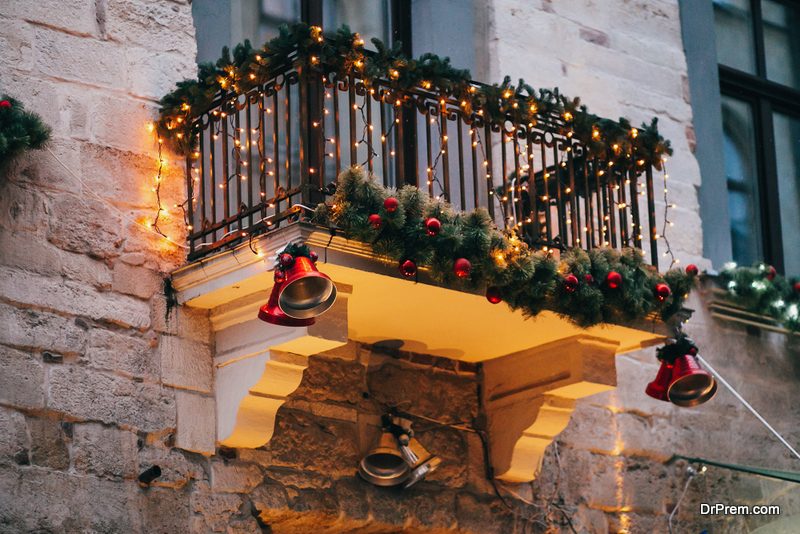 How about a jingle bell balcony décor? Yes, you can decorate your balcony with the jingle bells which people use to do in older times. The most important classic jingle bells décor to beautify your house and here you can go for the same. Use decorative jingle bells to especially putting it in the balcony grills which looks very attractive and gives a nice appearance. Use big green, red and golden color bells all hanged up in the balcony railings. You can also get it decorated in the balcony railings and walls. Even if you have rustic, old or unattractive railings and grills, then also you can make it more attractive by jingle bell decor. These lights give a nice festive feel to your old looking balcony and spaces.
4.     Simple Minimal Balcony Décor
Some people like to have a simple and minimal decoration at their home. Minimal is the new talk of the town. Simple and sweet decorating ideas sometimes look extremely attractive giving a nice effect to your overall appearance. Starting with the simple and sober white light, which gives you a warm and lighter feel. Add little snowflakes hanging from the ceiling and your décor is ready to shine. If you want, you can add a small Christmas tree and your balcony is ready for the Christmas party. You don't need to add anything more; this can create a beautiful look for your balcony and the decoration just looks awesome.
5.     Santa on the Apartment Balcony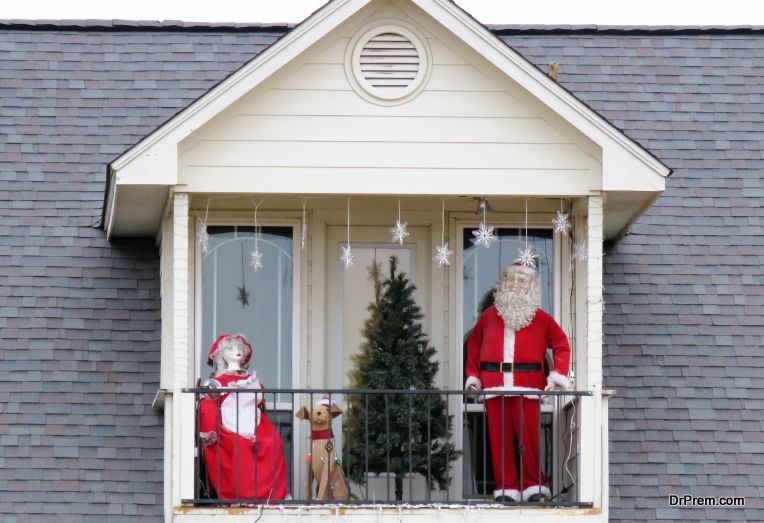 How about putting Santa on your balcony? You cannot just ignore and cannot have Santa on Christmas. Kids love Santa and you can give him a place at your balcony by placing a small Santa. If you have a smaller place, choose the size according to space. Presence of Santa is important and it doesn't matter if it's small or big, it just enhances your balcony and gives a happy and perfect Christmas vibe. Arrange some gift boxes near the Santa and around to make it more attractive and beautiful.
6.     Scandinavian Christmas balcony décor
Give your balcony a natural look of Christmas this winter by keeping warm and cozy. The Scandinavian Christmas décor gives you a feel of winter as you involve cozy blankets and beautiful Christmas themed cushions. To make it more interesting, add an attractive Christmas garland to finish the look. If your balcony spaces allow you, you can have a fireplace at the corner. Get a temporary fireplace and mantle for the Christmas as it can match the theme of the decoration and keep the place warm. You can also have to get together or just enjoy the cozy feel at your balcony.