The bathroom is one of the most overlooked rooms in the house. Despite it being a room you spend a lot of time in, it is common not to consider its décor as very important. However, if you take some time to transform your bathroom into a beautiful, relaxing room to be in, you will notice the difference it makes in your daily routine! Your own bathroom can be as stylish and refined as a spa. Who wouldn't want to have a day spa like experience at home?
Not only will this add value to your house, you will also feel calm and positive every time you step into the bathroom. With a few changes you can transform your bathroom from a bland, boring space into one of the most stunning rooms in your house.
1. Think About Your Tiles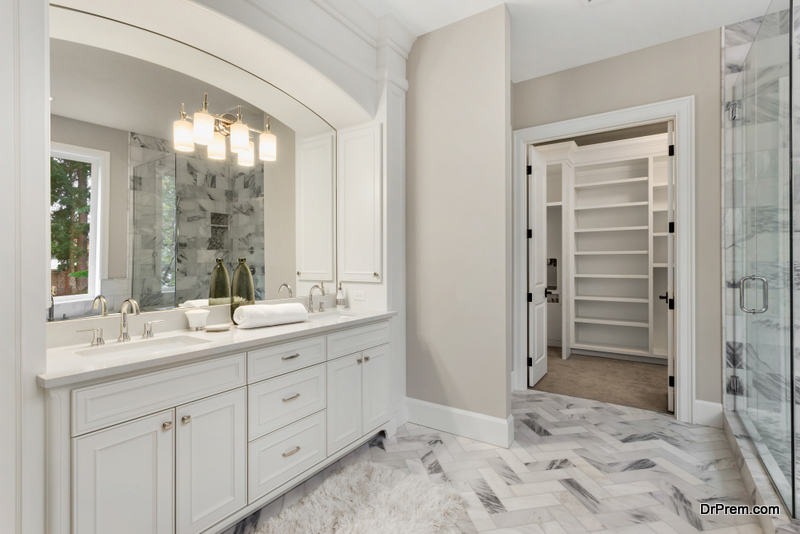 Your choice in tiles is maybe the most important one when designing a bathroom. They are the base of the room, and will be the backdrop all your other décor choices must match. If you are designing your bathroom from scratch, carefully consider what type of tiles you want. Many colours look outdated and unfashionable after a few years, and plain white might make your space feel cold and lifeless, especially if you have a larger bathroom. Consider a plain base tile in a light and neutral tone.
If you want to opt for colour, a pale shade of green or peach tile can bring a hint of colour without being overbearing. Remember you are going to be looking at this tile multiple times a day- so don't go too crazy. Understated looks expensive, especially in the bathroom.
Another great way to add some more personality into your tile choice is to have a row of feature tiles with a pattern or design. This means you can add a pop of colour and interest while maintaining a more neutral overall look in your bathroom.
If you aren't planning on redoing your bathroom, you can still ensure your tiles look their best by giving them a good scrub. Bright, sparkling tiles will make your bathroom feel fresher in an instant.
2. Change Out Your Tapware
If you want to bring new life into your bathroom, an easy and inexpensive way of doing this is changing out the tapware. Selecting new and modern tap and handle designs will impact the overall look of your bathroom. Even if nothing else in the bathroom is new, a shiny faucet will make it seem fancy and brand new.
In a well-designed bathroom the taps are one of the first things you notice. Think about the high end restaurant bathroom you have been in, they always have a standout feature in their tapware. This can be because they are much more unique than your standard home bathroom tapware. Whether the shape, placement or finish of the tapware you choose has an interesting design, it will make an impact in your bathroom.
If you don't want to make too bold of a statement, simply choosing tapware that has a unique finish or material will make your bathroom stand out as beautifully designed. A popular choice is copper tapware, which adds a subtle vintage aesthetic to your bathroom.
Tapware that stands out will make your bathroom design look well considered, and bring a feeling of luxury to the whole room.
3. Get Good Quality Towels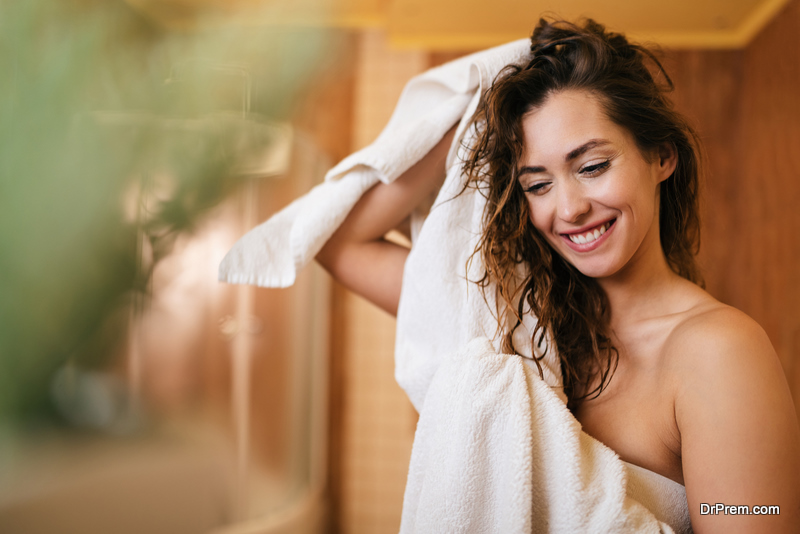 Don't forget about your towels and bath mats- and shower curtain if you have one. One of the most common things which make a bathroom look poorly designed are mismatched and cheap quality towels. It can make an otherwise beautiful space feel cluttered and uncared for. Instead, make sure your towels all match and are good quality.
A nice thick handtowel will make guests feel as though they are in a five star hotel, and you will get a small dose of luxury every time you dry off after a shower.
It's important to also consider the colour choice of your towel sets. Although white towels look chic and fresh when first purchased, they may not be the best choice. White towels look dirty very quickly, so if you don't wash them often enough they can make your bathroom feel dirty. At the same time, dark towels will make your bathroom feel smaller if hanging up.
Finding a nice neutral tone of towels that compliments the tile choice will elevate your bathroom design. Natural colours also look great, and can be chosen well to make special features of your bathroom stand out more. You can get creative with this, as it is easy to switch up when you are sick of a colour. 
4. Add Plants
Did you know many indoor plants thrive in the bathroom? This is because of the humid environment created by warm steam when you shower or have a bath. So if you haven't already, consider adding some pot plants to your bathroom décor.
Not only will plants grow well in your bathroom, they will also make it look amazing. Even one well-placed pot plant will make the space feel lush and elevated. Plants are the perfect natural touch for a bathroom. They provide a difference in texture which make the bathroom more interested, as well as a pop of colour.
Adding plants to your bathroom will make it feel expensive, and create a relaxing environment. Your bathroom will look like a high end spa, or a tropical hotel room. Not only is this an easy tip to implement, but it is easy to change around to freshen up the space. You can rotate which plants you keep in your bathroom, or switch out the pots they are in to add new colours.
5. Use Candles and Scents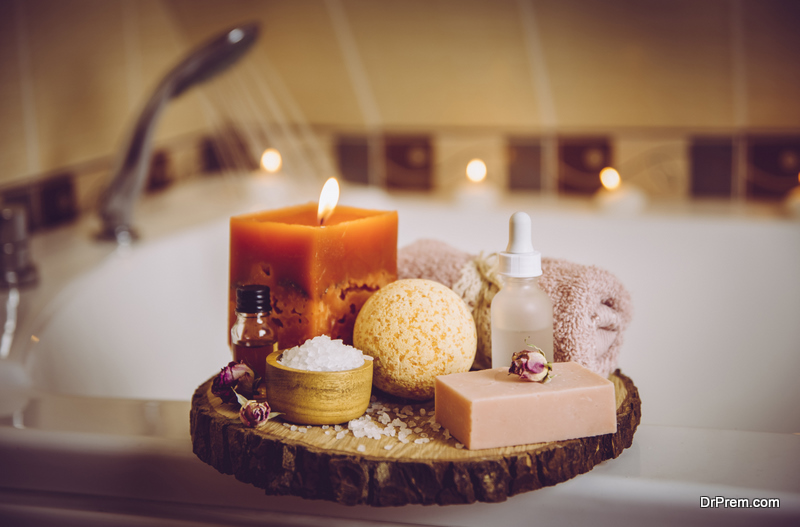 The little details can be what make the biggest difference in your bathroom. Something as simple as lighting a scented candle can change the entire atmosphere. Adding candles or diffusers is a simple touch, but it will make your bathroom feel much more special.
Not only do scented candles and oil diffusers make the bathroom smell beautiful and luxe, they can be a design feature used to elevate the space. Many candles have expensive looking designs which will make your bathroom feel more expensive as a result. Oil diffusers will also make your bathroom look luxurious.
These are the extra details that really cement the aesthetic and experience of your bathroom. Follow through with the attention to detail for items such as hand soap and air freshener. The more care that has been put into the look and scent of these items, the more elevated and expensive your bathroom will feel.
These small touches have a big influence on the overall appeal of the bathroom. This is also true for how your bathroom impacts the value of your house as a whole. The bathroom is one of the rooms that will have the most influence on the value of your property, although it is often forgotten when redecorating or designing. As such, the time you spend increasing the appeal of your bathroom will have a positive impact on your property's overall value.
If you are updating your bathroom in order to appeal to buyers before selling your home, you should consider choosing an independent property valuer to accurately assess the value of your property. Knowing the correct market value of your property will assist you in making informed decisions throughout the selling process.
Article Submitted By Community Writer