Porch decoration can be much more than just hanging a wreath on the door. There are tons of ideas to decorate the porch as elaborately or as simply as possible, depending on your taste. You could go overboard or with the help of some simple DIY ideas, make your porch festive and beautiful. After all, your guests would see the porch first and it should make a good first impression on them. Here are a few porch decoration ideas for you to get inspired for this Christmas.
25 porch decoration ideas for Christmas
Copper planters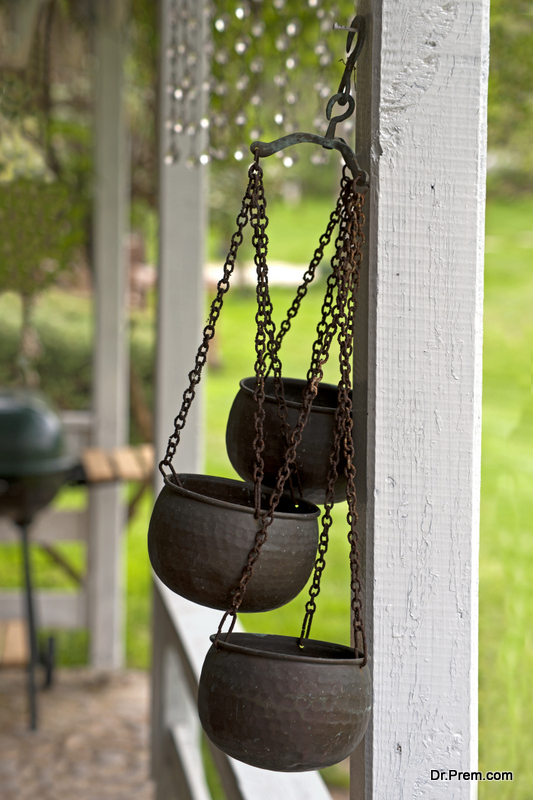 To do something unique which stands out from the rest, go for some shiny copper plants which add grace and elegance. These can be hung outdoors on a board, filled with some decorative branches and hung on the door, or porch wall. This kind of festive season porch decoration ideas can last for the entire year and increase the curb value of your home endlessly. And best of all, these planters can be found at departmental stores such as Target for about 3 dollars only.
Garden inspiration
If you're an avid gardener, then it's time others know how deep your love for gardening is. Display your favorite gardening tools on the porch. These days, it is healthier to garden for your sake and the environment's. Your gardening tool décor idea can inspire others to roll up their sleeves and start their own veggie garden. Tie bright red ribbons and garland on the instruments for some Christmas cheer. Add plants, berry wreaths and lights to complete the look.
Artificial DIY Christmas tree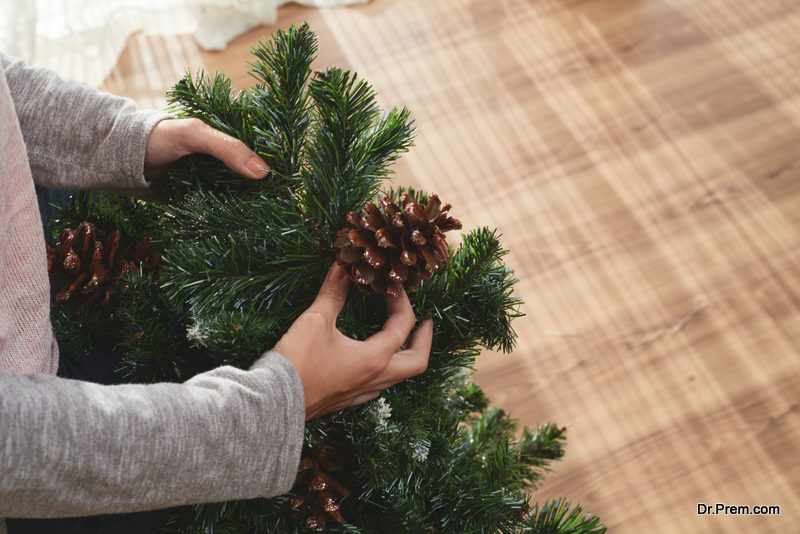 If you're bogged down by a hectic lifestyle and have no time to tend to a living Christmas tree, then go for an artificial one. This one is quite easy to make too, so even if you're a novice, you can decorate the porch in just a few minutes. All you have to do is buy a garden obelisk or an upside down tomato cage in it (or any other metal shape you have at home or prefer).
Put this structure into a planter and fill the base with beautiful silk red leaves, which you can buy or cut out. The next step is to wrap it with plenty of lights and colorful ornaments. This is one of the incredibly easy but smart DIY porch decoration ideas ever.
Farmhouse style porch decor
You can attain this style without having to put in too much work. Spread the Christmas cheer by using twigs, greenery and stars which gives the farmhouse look. The wreaths can be made from twigs as well as green leaves entwined with LED light strings. Add some other rustic components which come to your mind along with some glass candles to complete the decoration.
Garlands and wreaths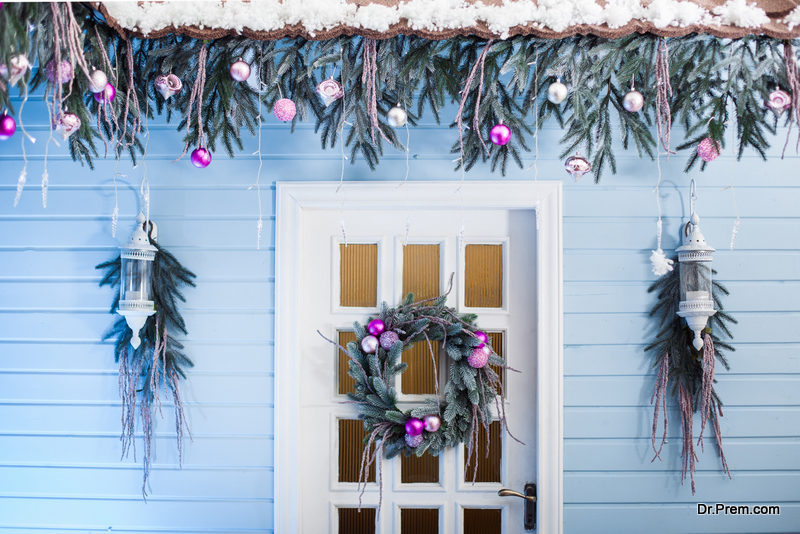 Wreaths and garlands are the easiest and first choice when you think of outdoor décor for your porch. It's how creative you are when you use them to make your porch truly memorable. To add a lovely holiday touch to your front door, hang a traditional wreath on it. Dress up the banisters with a few garlands. Red and silver balls on the garlands and the wreath would double the seasonal festive details.
Garland can be green or cords made of decorative items. They can be woven around the difficult-to-reach parts of the porch, on doors, archways and topped with velvety red ribbons. Combine garlands with bright red ribbons to make your porch look bright and beautiful, effortlessly.
Garlands and wreaths are the ultimate Christmas porch decoration ideas as it can be used for small and big porches.
Make it cozy
Add some cozy cheer to your porch during the holiday season. Along with the pine and other decorations, add some comfy cushions, scarves, blankets in red stripes, or shades of red and green to make the porch cozy and pretty at the same time.
Outdoor Christmas tree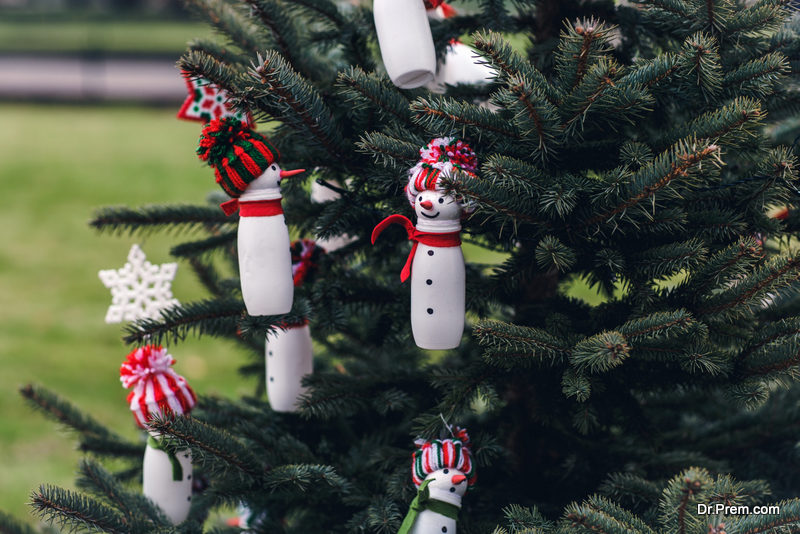 Why have the Christmas tree only inside your home? If you have one which has grown a little tall for the interior, you can place it outside and decorate with the Christmassy baubles and glitter strings. You could buy a porch size faux Christmas tree, and decorate with plenty of LED light strings which can blink with a timer.
A mix of the real and the unreal
One of the simplest porch decoration ideas for Christmas is adding some artificial greenery along with the real one in a planter. Silver stars and red bows complete the look besides adding a bright dash of color.
Minimalistic idea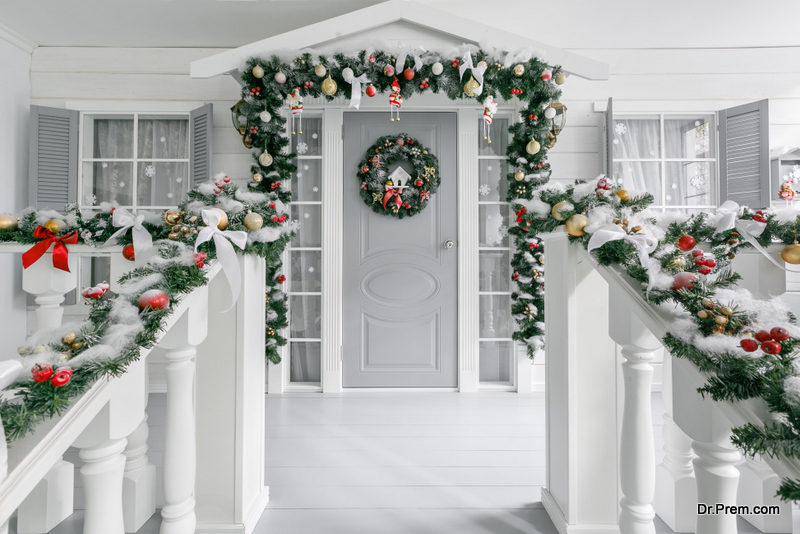 Are you tired of all the bright lights and decorations around? Go in for the minimalistic look by hanging three wreaths neatly aligned on the door and just two evergreen planters on both sides. The calm and relaxed look might be just what is right for you this season, and one of the classy porch decoration ideas for your outdoors. Add neutral colors to establish the serene beauty.
Go for the bling
Hard pressed for time and yet you want a lovely porch? This idea might be just for you – buy some cordless garlands which are pre-lit. These look fabulous and dazzle all winter. It's a beautiful idea for outdoor decoration which needs no effort at all.
Light some candles to brighten your entry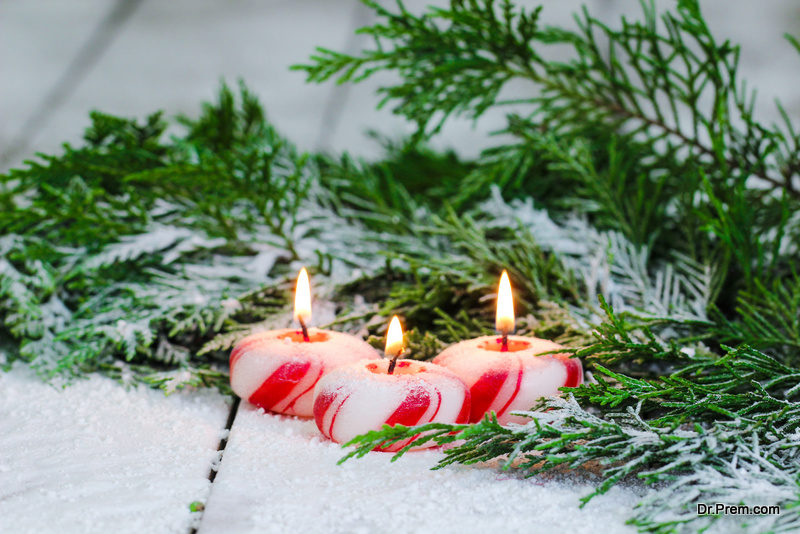 Candle looks ethereal and lovely as the soft glow spreads in the surroundings. They're an important Christmas element which is considered to be holy. Light candles on the steps in lanterns to keep them safe from the wind. The candlelit porch is a softly glowing light from your gate to your front door. Buy some handmade candles to promote local candle makers. This is one of the best porch decoration ideas for the festive season.
Add some faux trees
Some porch decoration ideas are great for Christmas as well as other seasons, such as this one. This idea is unbelievably easy and chic and befitting for small porches. It adds a special note to your outdoor décor. It's all about planting/adding the most realistic looking Cedar trees into real planters, then adorning them. Add a few more herbs such as rosemary, lavender and succulents to decorate your porch. Take it up a notch by adding an elegant artificial pine wreath with lights, add eucalyptus branches and ribbons, silk flowers and tea light candles (battery operated). This idea is one of the DIY porch decoration ideas you would love after accomplishing it.
Christmas lanterns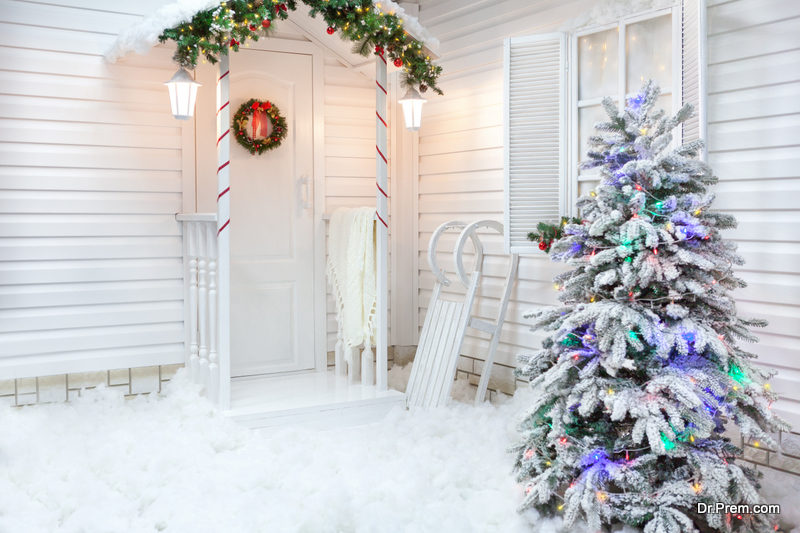 Illuminate the porch beautifully with these beautiful lanterns. Select lanterns of all shapes and sizes, and place them strategically on the steps. To attain the dreamy look, get some fairy lights, garlands and lanterns. Wrap the garland/s  and fairy lights on the columns and railings. Light the lanterns at nightfall to give the classic whimsical look.
Retro décor idea
Use the vintage decorations from your attic to give the retro look. Christmas trees in an old wheelbarrow, garlands of faux blue colored pine cones and red beads can adorn the door. Add an electric pink lantern with blue pinecones, pink bow as well as the pink tree skirt. These add oomph to your porch and helps to stand out in the crowd.
The Christmas tree on the porch can be decorated with vintage ornaments, bubble lights and red and blue globes complete the retro look you want.
Idea for small porches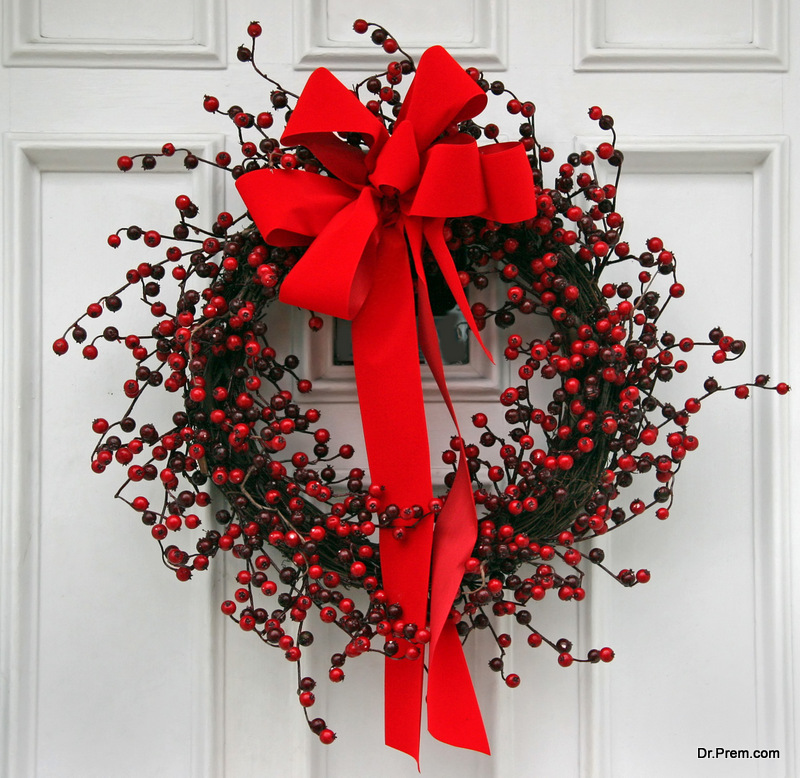 Don't go overboard with the decorations for your small porch. All you need is dramatic cranberry wreath and a garland with pine cones and berries. This simple idea is eye-catching and joyful and will bring a smile to your face whenever you see it. Some people even decorate their mailbox with red trimmings to enhance the curb appeal.
Colorburst decoration
One of the porch decoration ideas for the festive season is all about bright colors. Go a little OTT and hang some shatterproof ornaments from the porch's overhang. Old sleds in red can be repurposed as unusual Christmas decoration. Fill lanterns with lots of pretty Christmas Baubles will add more color. Decorate the door with evergreen wreath and brass bells.
Plaid and pretty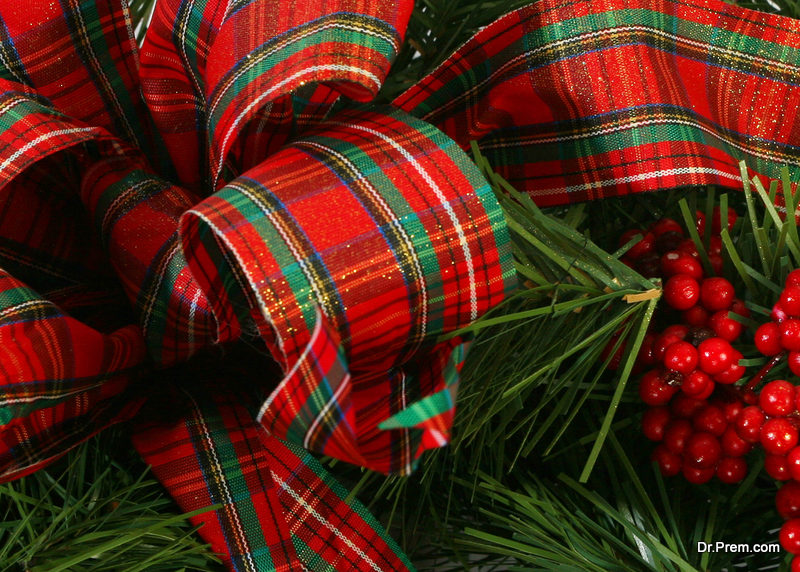 Plaid looks pretty and festive without any fancy decorations. Bring the new this festive season with this very simple look. Hang a wreath with some plaid ribbons – this will be your tribute to the holiday spirit in a quiet way. If you want, you can add planters or one planter with evergreens adorned with some star decorations. For nighttime illumination, choose red lanterns to light up with a soft glow.
If you're not in favor of dazzling everyone with tons of string lights, and want to mark the holiday season in a quiet manner, deck the porch out with natural elements. Mix and match green and red leaves and branches which would be perfect to evoke Christmas, while saving electricity.
Simple and grand glittering décor
One of the porch decoration ideas looks grand but is quite simple. The door frames can be adorned with red ribbons, huge bows along with fairy lights. Similarly, the columns on your front porch can be adorned with fairy lights. Fairy lights on the planters on the pathway to the entrance give the glittering grand look.
Greenery, greenery, greenery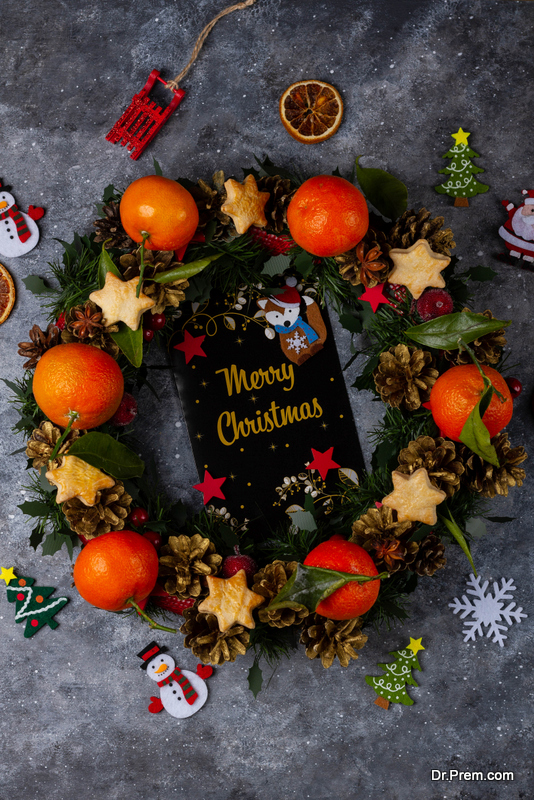 Plenty of fresh greenery adorning all possible places on your front porch with classic LED powered lanterns create a unique stunning look. This style is very easy to achieve. Top off the porch urns with some evergreen clippings complemented with some real tangerines – lovely idea you would never regret implementing for your front porch.
Earthy tones
We love the earth colors of the country style porch. It reminds instantly of nature and autumn. Dried evergreens are complemented by the frosted pinecones on the door, columns and porch's gable. The hanging star pendant as well as fairy lights decorate the roof and Christmas trees near the door. The steps and pathway can be lit up with lanterns. To top it all off, the wooden sleigh full of gifts ushers in the spirit of Christmas. You can modify this idea to suit your home, using whatever you can find to make the porch look special.
Vintage basket bouquet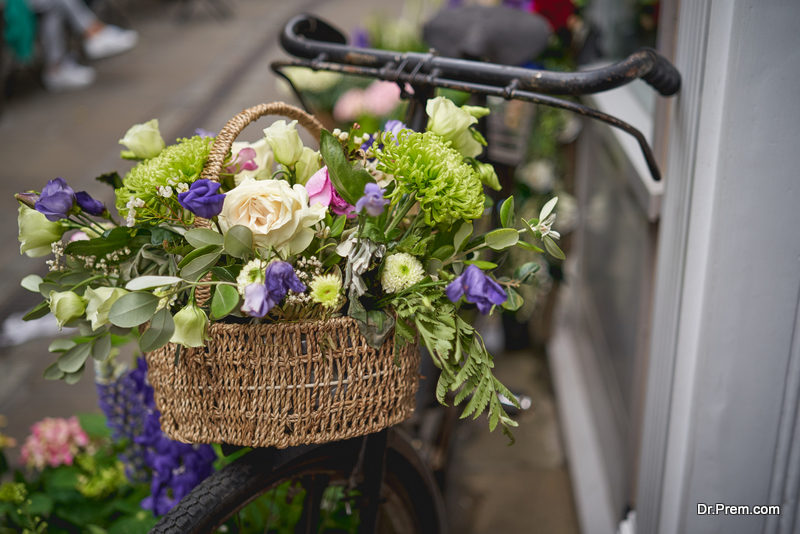 Porch decoration ideas are many, but there are some which are so simple yet so gorgeous that you think why didn't I think of this myself! Such as hanging a vintage fishing basket on the door, filled with evergreen clippings and berries or other colorful, seasonal element.
Shabby chic porch décor
For the shabby chic porch décor, you will get many ideas. Some of these porch decoration ideas are quite sophisticated and festive. Design a Christmas vignette decoration for the table, coral Christmas wreath, mini trees, pearls, vintage lamps and candles. Silver ornaments with green garlands look classy and cool.
Traffic stopping ideas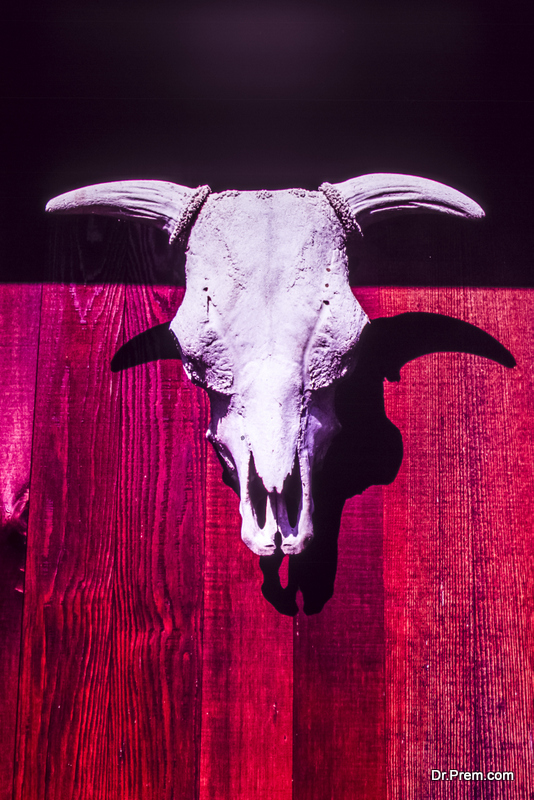 To create traffic stopping ideas, be inspired by this one wherein the homeowner hung a vintage cow skull on the door, surrounded by inexpensive craft store decorations.  The plastic berries, evergreens and cow head create an amazing drama which will stop people in their tracks. Think of something other than the cow head to create the personalized décor for your outdoors.
Vintage style
Use the vintage objects in your home to bring in the festivities with a vintage flavor to it. Items like vintage dressers, vanities can be placed outside and decorated with candles. Vintage wagons can be the base for artificial tree which could be the star of your porch. A handpainted welcome will be the best way to welcome your guests.
Eclectic porch décor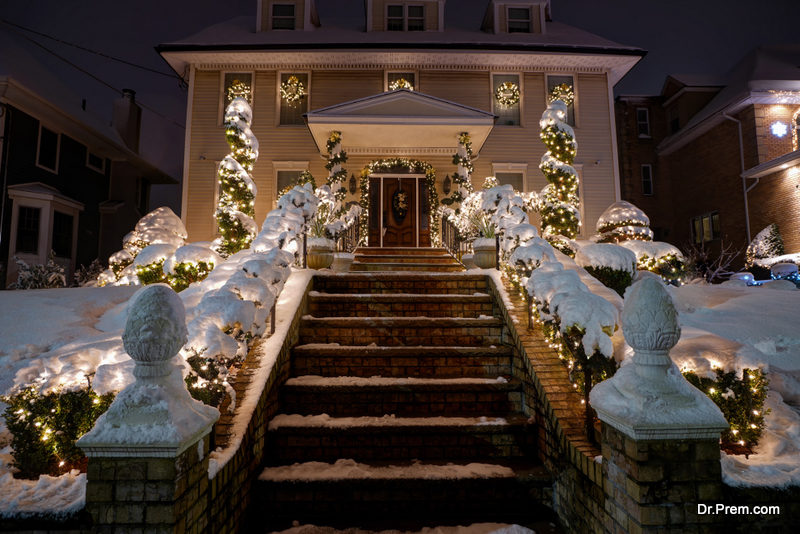 Derive inspiration from various sources and create the perfect cohesive, personalized look. Find the décor items which you really love and decorate according to your theme. Try to have some common colors for the look which makes your exterior look amazing and completely different from the other facades around your home.
All these porch decoration ideas will surely inspire you to create the best décor for your porch befitting your lifestyle, budget and size of the balcony. Introducing one or two stunning elements are enough to decorate a porch which stands out among the rest.