Christmas décor can make you happy or fill you with unease. You're not sure that your home looks co-ordinated or as beautiful as you want. You may not be able to put your finger on it, but you may be making some décor mistakes without knowing, which experts often notice. Here are a few Christmas decoration mistakes we have listed out for you.
23 most common Christmas decoration mistakes
You decorate only with red and green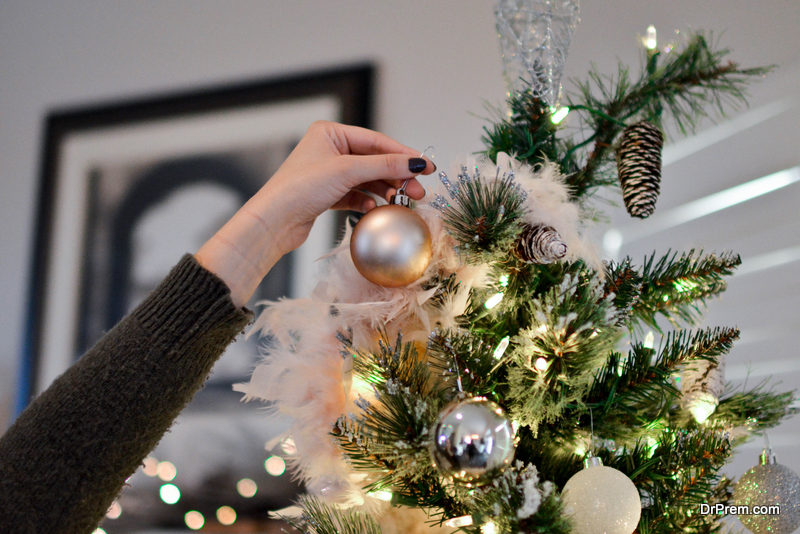 Red and green are the Christmas colors, but dare to be different this year, especially if these colors clash with your home décor. You can use different shades or colors altogether to achieve the festive look. Gold, silver, copper or a combination of these colors can make you home look elegant and cheerful. A dash of red or green, wine and blush tones will look wonderful along with the metallic tones. Make the colors the theme of your décor. Getting stuck with red and green is one of the most common Christmas decoration mistakes many people make, even though they sense that something's not quite right.
You overthink everything
Making a plan and executing it to the letter will help to get everything done as soon as possible. Your décor is your own, whether it's smart, edgy or not, it does not matter. Sometimes when you overthink, you tend to redo everything which leads to destroying it. This is a Christmas decoration mistakes you have to avoid.
Too many inflatables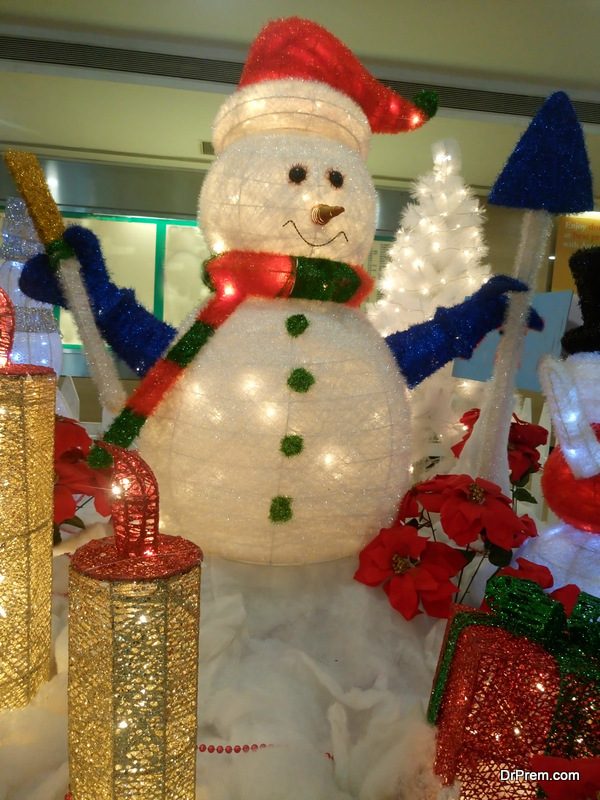 One or two inflatables will not overpower the yard, but if you get carried away and buy several reindeer, nutcracker, Santa will make the yard cluttered. Remember that you have to inflate them too, so reduce your work by buying only one or two which matches your outdoor décor theme. A beautiful centerpiece or a snowman is more than enough. Steer clear from Christmas holiday decoration mistakes like this one and have a yard which has few objects but looks amazing.
Not enjoying the process
Holiday decorating should be a pleasant fun activity for you. It should be a drudgery that makes you wince whenever you remember that you have to get down to it. You can organize a decorating party and get help to decorate. Or just play some lighthearted cheerful tunes to pep you up while decorating.
Not making better use of Christmas cards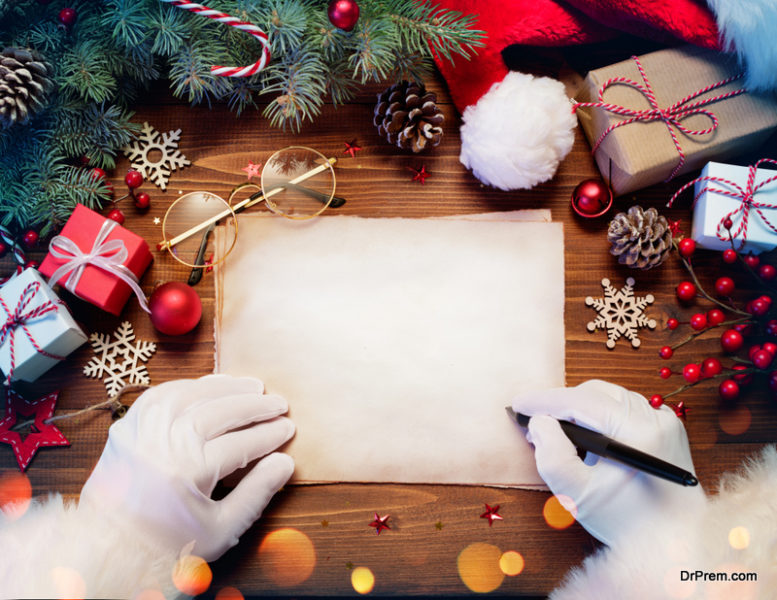 Instead of just displaying the cards on the mantel, string them into a garland. Save your mantel space for other trinkets and decoration. Another way of displaying Christmas cards is framing them in pretty wooden frames which are inexpensive but look amazing.
Overpowering fragrances
Aromatic candles, burning essential oils, baking all have very strong scents that can overwhelm you. Mixing fragrances is definitely a no-no. Do not put a candle ion every corner, even though you may have bought a ton of scented candles, or got them as gifts, do not light contrasting smells at the same time. Because it would definitely backfire and make your home smell weird and pungent.
You forget to measure the height of your room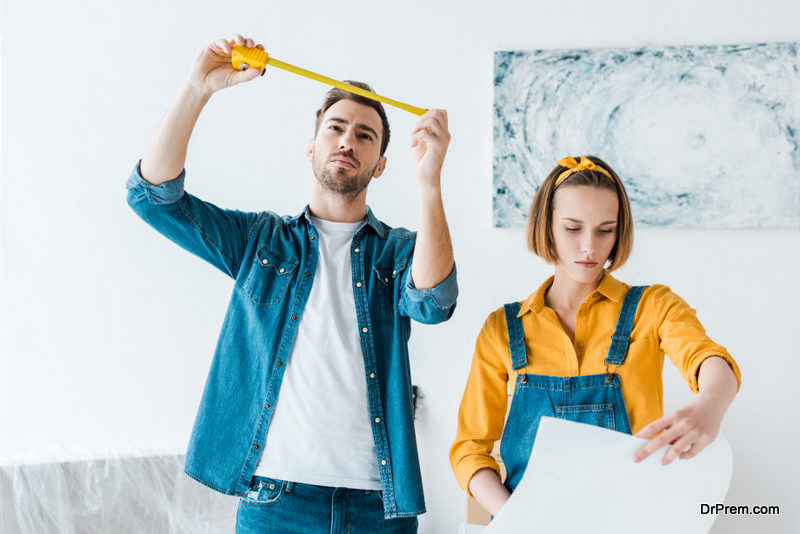 This is an oversight you may regret sorely, because if you are not aware of the height of the ceiling, you may end up buying a tree which is too big or too small. An imperfectly sized tree looks incongruous and out of place, even though you spend hours decorating it. It's one of the tree decorating Christmas decoration mistakes which is easy to make!
Forgetting to grab natural décor from your own yard
All the beautiful décor items are made from things gathered from nature, such as pine cones. You probably don't have a pine tree in your backyard, but get some evergreen branches make a garland for the front door.
Your Christmas tree dries up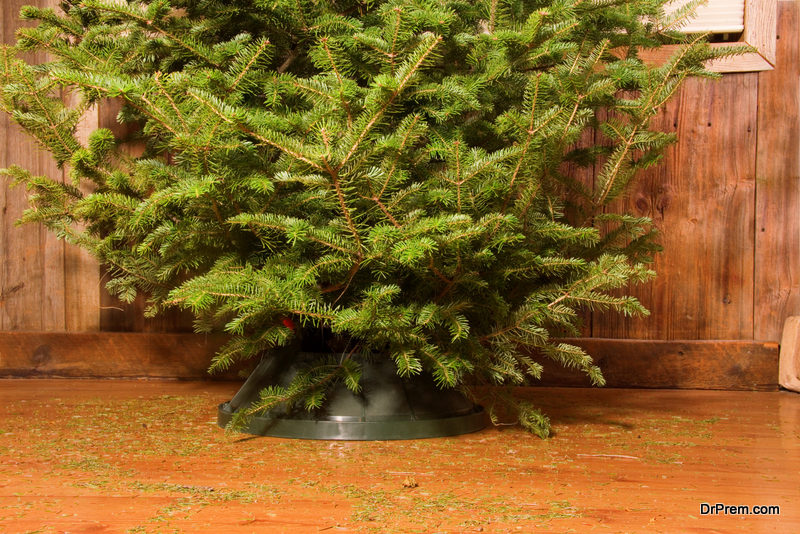 You went to great lengths to get a real tree, and after a few days you notice that it has lost its green freshness, shed leaves and dried up. This could happen because you may have forgotten or didn't know that you have to water your freshly cut Christmas tree. Keep the tree's stump (bottom inches) submerged in water all the time. Doing this will ensure you have a living tree every year and a beautiful, green tree on the big day.
Neglecting to harmonize the tree decoration
Another Christmas decoration mistakes, especially tree decoration, is to focus on the tree as a separate décor element which does not match with the rest of your home décor. The tree decoration should be a part of the house décor. Make the tree the focal element of the room, whatever is the size and let the top ornament be the show stopper. Be imaginative about it. Strands of flowers, IVY, berries and ribbons can be affixed on top of it as a spectacular, jaw dropping decoration.
Fashion something out of pine cones, and check out online or offline magazines for ideas you can personalize. The point is to stretch yourself and venture out of your comfort zone.
Not making a holiday list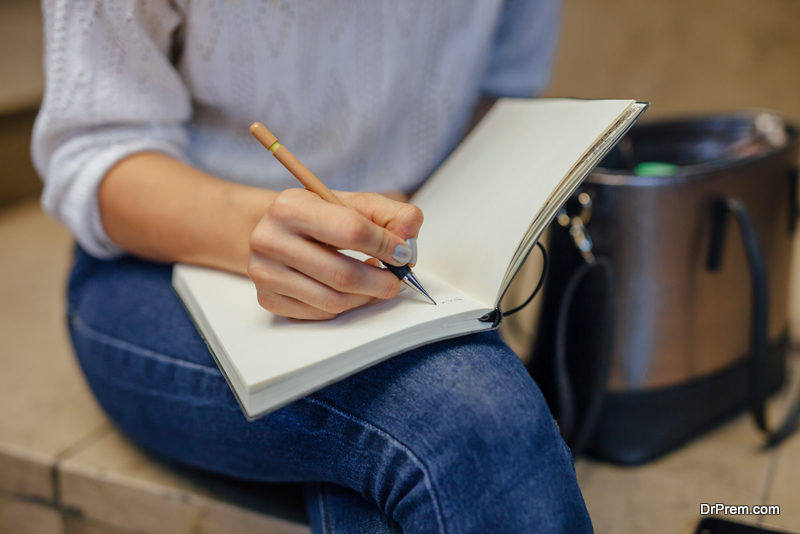 Making a list is extremely useful, as it helps to keep you on track with your decoration theme. To avoid making simple holiday Christmas decoration mistakes, make a comprehensive list for all the rooms, and front yard and backyard. This Christmas, jot down your main colors, and the complementary colors and the kind of decorations which are in your mind. This will stop you from getting distracted and find the just-right décor items for your home.
Not adding personal flair
Try to think out of the box and customize store bought items according to your taste. Bought items look nice but impersonal, but dressing up some pieces would completely transform the look. For example, adding tiny aprons around the figurines, adding your child's necklaces would make the purchased items more sentimental and personal.
Forgetting about pet hazards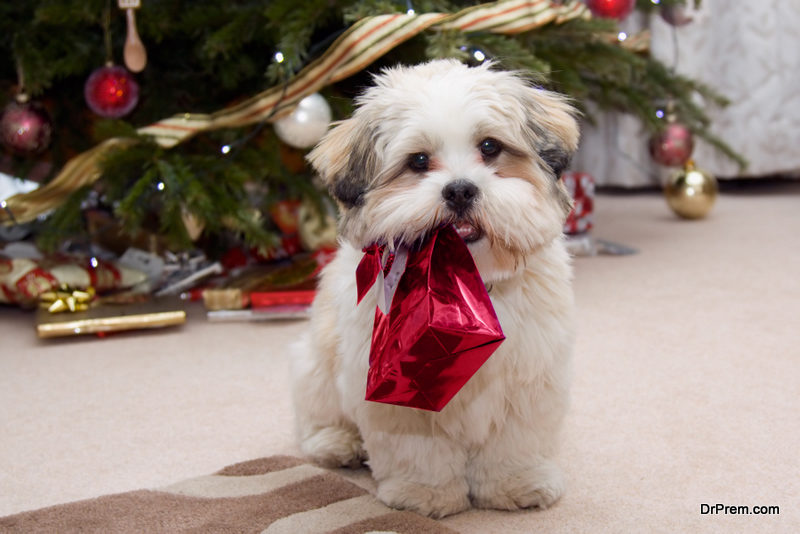 Pets are curious by nature and like to know what's happening around them and get a sniff or taste of everything. This makes it imperative to pet proof your home during the holiday, as it could be one of the worst Christmas decoration mistakes you could make. Safeguard the water in your Christmas tree, and avoid the mistletoe, holly and poinsettia décor in your pet's reach. Don't leave any food or candy out in the open – many pet parents have to make emergency trips to the vet during the holidays as a beloved pet overindulges in candy or food. Overeating has led to many pet fatalities.
Getting carried away with the ribbons
Ribbons add color and texture to the tree. However, one of the commonest tree decoration or Christmas decoration mistakes most people make is that they add bows at the wrong places which trails down and looks plain ugly. The best way to put ribbons on a tree is to cut ribbons into 10 or 12 inches length and pinch the middle, attaching the ribbon by its center to the tree branches and creating soft waves.
You try to cover every surface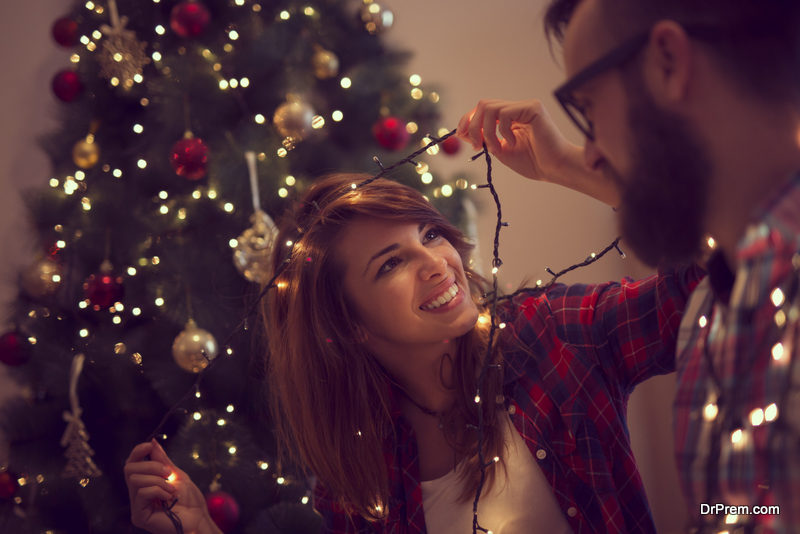 One of the most common Christmas decoration mistakes is to fill all the spaces in your home. This happens also because of the urge to buy the pretty holiday décor items on sale. You have to be careful and resist buying too early and too many decorations. You would have to fill all the space available to display them, and your decorations will look like clutter.
Like everyone these days, you may have a smartphone. Take advantage of this and click a photo of your room after you decorate it. You will immediately know whether you need to reduce a few items or not.
Empty Mantel
If you have a fireplace, then it automatically draws the most attention. The mantelpiece is ideal to display your unique theme. It should not be completely empty or the exact opposite, too cluttered with cards and snow globes. Fill it with white figurines or a row of tiny dry flower arrangements. It could be just one piece of decoration which is stunning.
But never leave it empty, and the trinkets or decorations should match with your theme. Use the opportunity to transform it into a wonderful backdrop for your Christmas family photos. Leaving it empty is one of the Christmas decoration mistakes which you should be careful to avoid.
Not remembering light safety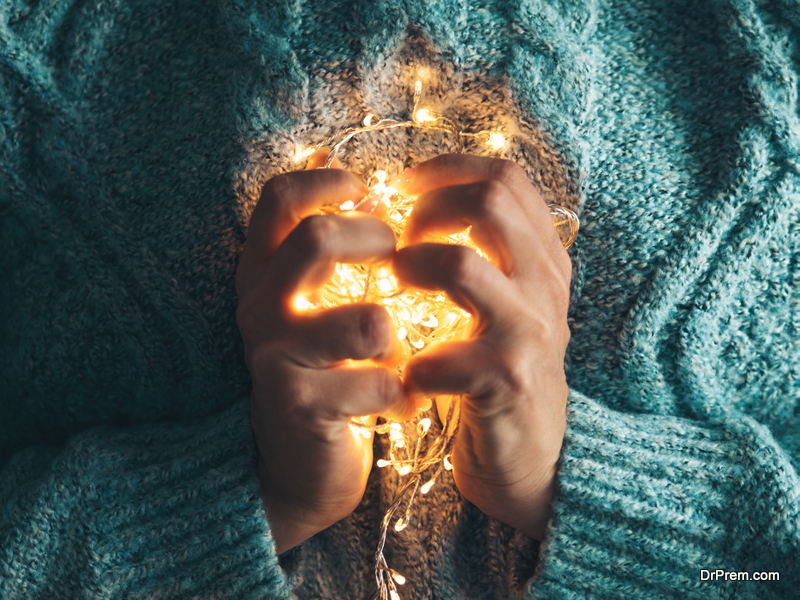 Remove the light strings from the way of pets and small children. Indoor and outdoor décor look incomplete without twinkling lights. Other décor and toys too take up energy. The holidays need a lot of electricity and which we should try to conserve. But the wires/cords need our attention more. To hide the unsightly cords, many people make one of the most dangerous Christmas decoration mistakes, i.e. running the cords under rugs and furniture, across walkways and out of the windows. This would make your home unsafe for kids and pets.
Don't overload the adapters and power strips that may lead to sparking. Talk to an electrician and add some more outlets that would be handy this holiday season and others too. If you feel that a cord, plug or extension is getting warm, switch off the power and remove the heated up element.
Another of the Christmas decoration mistakes is to decorate wet areas such as the aquarium. It's very tempting to do that but certainly not safe.
Forgetting to dust/clean up
Your theme may be outstanding and carefully thought up, every article chosen with care. If you don't clear up the clutter and dust before you decorate, it would ruin all your efforts. Sometimes, maybe even for a couple of years, you stare at your trinkets and souvenirs that you have added over the years. This does not feel like clutter to you, but cleaning it up would be a good start. This would bring out the latest décor and make it special. Dust is something you should clean before decorating. The sparkling clean surfaces will make everything look special too.
Missing out on creating traditions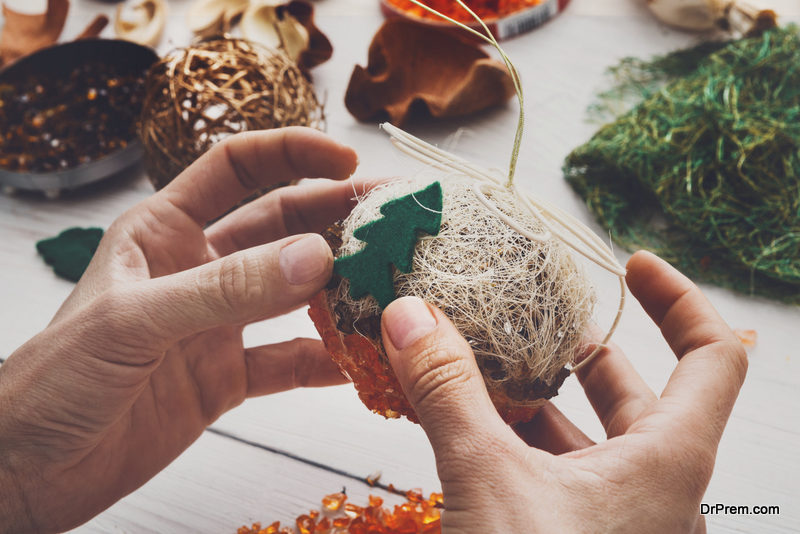 Decking the halls and tree, hanging lights and so on can turn into a fun and enjoyable family activity or it could be a chore for you. Take the chance to start a tradition of decorating together, making DIY Christmas ornaments or purchasing them together. Every ornament and décor item will have a memory attached to it, to look back on in later years. So forgetting or neglecting to get the family involved is one of the Christmas decoration mistakes you should avoid.
Don't decorate only at the front of your tree
Don't make the mistake of decorating your tree superficially. To have a glittering tree, hang the bigger and inexpensive ornaments near the trunk. The outer edges of the tree should not be the only part of the tree which is decorated.
Giving kids glitter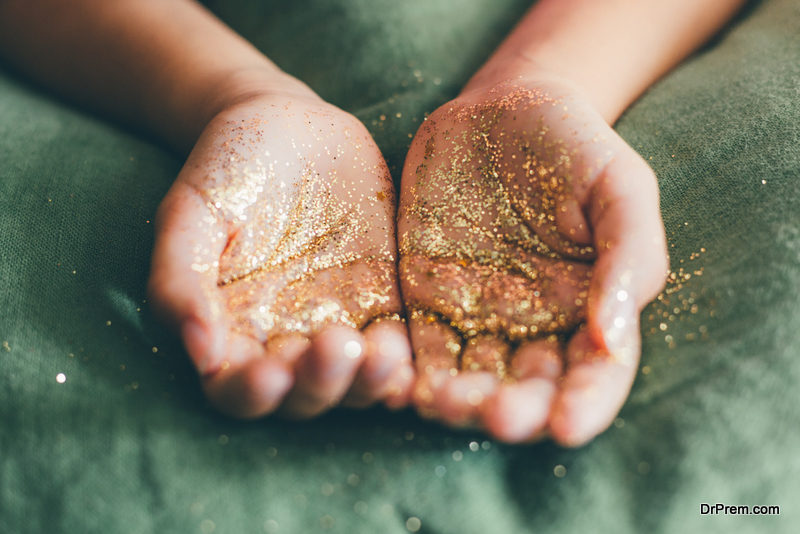 Getting the kids involved is a great thing – it creates tradition, memories and leads to lots of fun. But be warned, never ever give your kids glitter to decorate with. Your entire home would be covered in glitter which will never be able to clean up on time. It is just creating extra work for yourself. Let them be productive in ways which is actually helpful to you. 
Putting the tree in an invisible corner
Getting the tree, especially a real tree, is no joke. From measuring the size, to selecting it, getting it home and setting it up is no joke. Your tree is therefore has to be the center of attraction. It is worth it to move around some furniture so that the tree can have the pride of place. It should be away from the fireplace, space heater or radiator so that there is no chance of any fire.
Not decorating all your rooms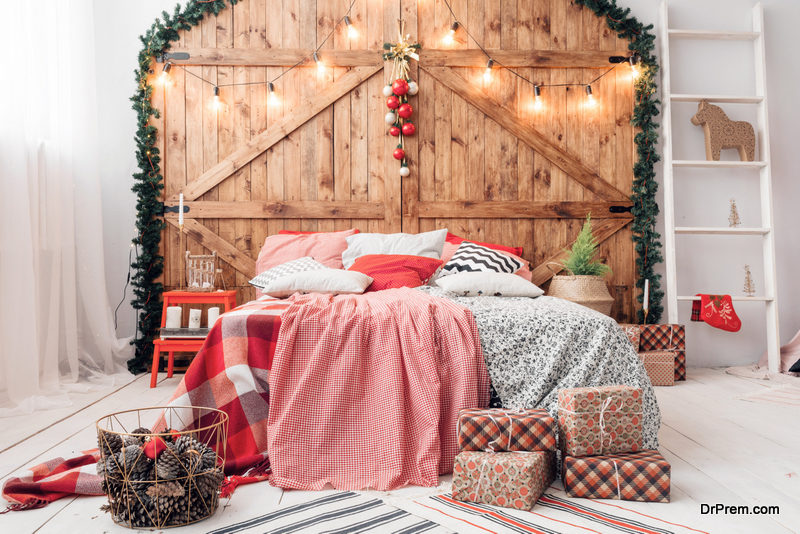 The living room is usually the focus of our Christmas decoration efforts. Sometimes you might completely leave out the other rooms. But do add a little bit of the holiday décor to the bedrooms, especially the kids' rooms, so that the festive atmosphere is maintained all through. Put a garland or wreath in your kitchen and scented soaps in the bathroom.