With all the futuristic, smart gadgets and devices appearing everywhere, can the humble kitchen remain behind? Manufacturers are upgrading their appliances to make it easy and fun to cook (and clean!). In future, if you're tired and want to have a home cooked meal, you may be able to do it through voice commands relayed over the home hub. Kitchen appliances of the future would be different, such as cordless appliances, which would be a big boon for apartment dwellers, where the kitchen size is tiny. The appliances won't be very drastically different, but their functionality and connectivity would improve.
The microwave was the true revolutionary kitchen appliance, invented after the Second World War, which revolutionized the way we heat and eat! The next kitchen appliance revolution will have voice technology, 3D printing, drones and connectivity behind it.
Kitchen appliances of the future will transform cooking
Industry experts say that the future is here already, with only the need to be integrated to function optimally. For example, kitchen appliances of the future connected via IoT – coffeemakers which would start making the coffee, by reading your daily activities, such as the time when you go for a shower, or a microwave which would be able to read the UPC on the food packaging to set the time and settings by itself. Here are a few appliances which would give you the taste for the kitchen of the future.
Manufacturing food with a 3D printer – Foodini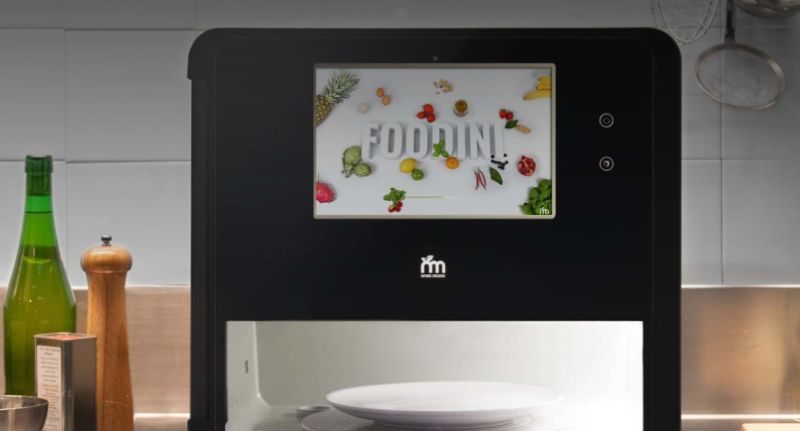 Making your sci-fi kitchen come true is this gadget called Foodini. It's manufactured by Natural Machines and is basically a 3D printer which prints out food. All you have to do is to place the ingredients in the printer, which will then print it out in a range of shapes and sizes. If you never mastered the art of making pasta at home, you don't have to fuss about it anymore.
Just put the dough into the machine and print it out. Foodini, is therefore one of the smart kitchen appliances of the future, which might help you eat healthier at home. Make delicious snacks such as crackers, chips, pasta and so on with the ingredients of your choice, without any preservatives or additives.
Preserve and serve fridge
Every fridge of the future would be part of the kitchen appliances of the future. There would be some type of innovation which would make things easier in the kitchen for you, and help to preserve food optimally.
There would be several compartments to keep individual items fresh. The temperature could be controlled for fruits and veggies, meat, pasta, ice cream and more.
One of the refrigerators on the scene now is a hands-free auto fillup. It's a smart piece of equipment, which can sense the size of the glass or cup which needs to be filled. This is quite amazing as it means you don't have to stand around waiting for the glass to fill. It could be useful for homes with little children, as they will be able to quench their thirst without any spillage, as the system turns off automatically, when it senses that the container is 90% filled up.
Drones as kitchen assistants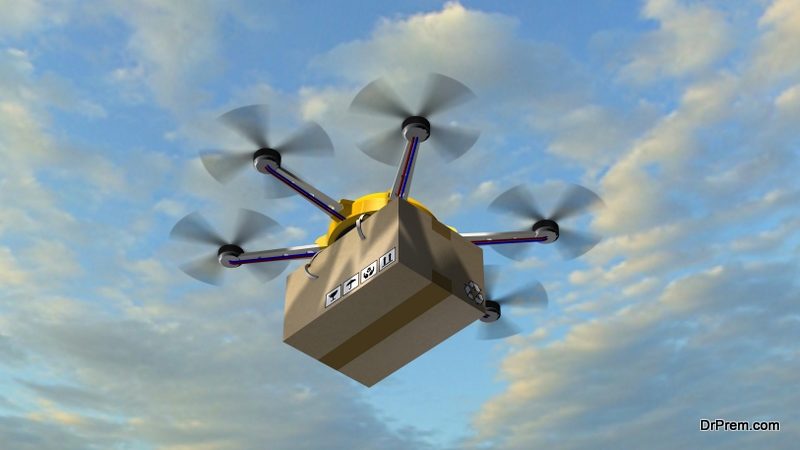 Though it's not exactly a kitchen appliance, but a drone would very well be a part of the future kitchen. You may have a personal drone which you could send out to get groceries, fly with them through the kitchen window and place all the groceries in the refrigerator. This may not be as farfetched as it sounds, as some companies such as Amazon are already using drones to make special deliveries. There might be refrigerators which have especial drone doors, allowing drones to deposit food directly into the fridge.
Wireless appliances
Wireless kitchen appliances in future will make a huge difference to the countertops of the ever-smaller apartments. Manufacturers of slow cookers and blenders are testing the ways in which these gadgets can be converted from wired to wireless gadgets. The Wireless Power Consortium is an organization which overlooks smartphones' wireless charging. Now, they are working on a new standard Power Class 2 (200W – 2,400W) on the demand by many appliance makers.
Wireless gadgets would eliminate the need for the ugly mess of wires on countertops, and the need for countless plug points. People could save a huge amount of space and set their gadgets on the countertop according to aesthetics rather than the length of the gadget's wire!
Green dishwashers and sinks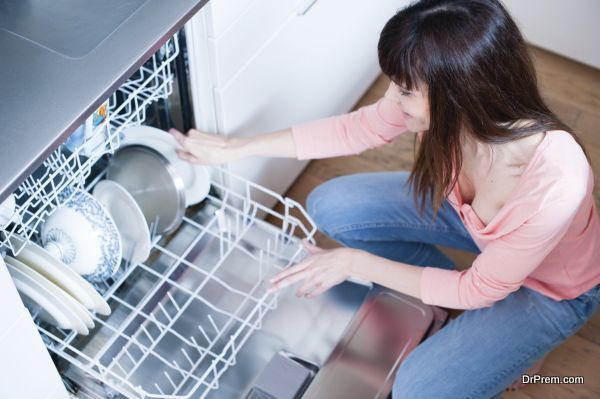 Kitchen appliances of the future have to be eco friendly along with being 'intelligent' and 'smart'. People are very eco conscious and do not mind spending a few bucks more in order to cause less harm to the planet, including less wastage.
There would be dishwashers and sinks which would automatically divide the water into safe/unsafe water which would be used to water plants, unlike the dishwashers and sinks of today. This separation of water would help to save a lot of freshwater. Food waste would be composted and these devices are expected to function better in smaller sizes. Dishwashers are important appliances that should always stay running which is why it needs to be well maintained. Look for the best dishwasher repair in Toronto to fix any problems regarding your appliances.
Cutting board and knife washer
Countertops, sinks and cutting boards teem with bacteria and need to be kept clean and germ free. To make your job easier, the company Electrolux came up with a knife and board washer which cleans these articles in an instant, almost, thus preventing the spread of germs.
Cocojet – the chocolate printer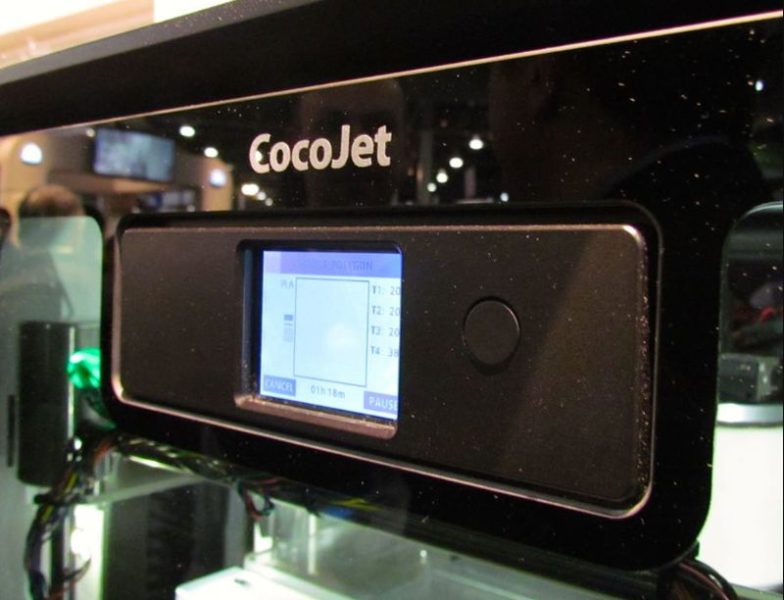 Image Source : images.squarespace-cdn.com
Hershey's of the Hershey bar and other chocolates has come up with an incredible printer, one which can print chocolate treats right at home. You can now have a slab of delicious chocolate whenever you have the craving for it. The machine can print pure, cooled chocolate in the three main varieties – milk, dark and white. To get the shape you covet, all you have to do is use the designs accompanying the printer. In the future, there would be many more food items which you could just print out at home with your 3D printer.
Smart oven
The smart oven from Electrolux is truly intelligent. It communicates processes and functions through the clever use of light. For instance, when you 'inform' it what you are going to cook, it will light up the shelf which is the best option for that particular dish. The oven's glass doors changes opacity to let the user know the stage of cooking. This is one of the most useful features, as you no longer have to pull out the oven dish and physically check whether something is cooked or not. This feature as well as the automatic door opening feature reduces the chances of getting your hands burnt too!
Interactive cooktops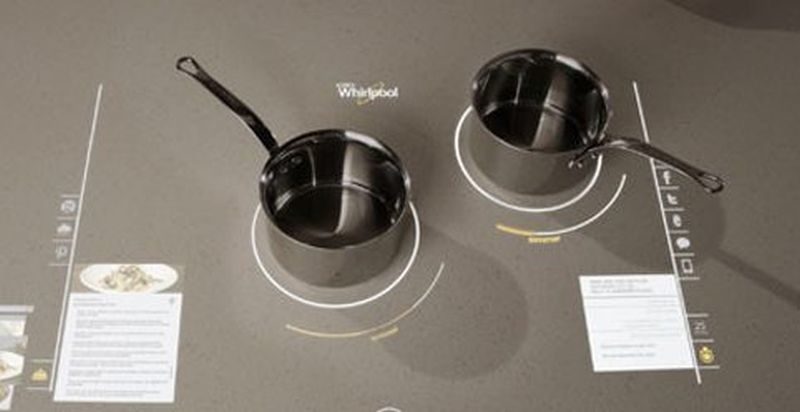 Among the smart kitchen appliances of the future is the interactive cook top. No more burners which stick out, but you will be cooking on smooth, sleek surfaces. You can place your pots and pans anywhere on the surface. The surfaces use the interactive induction technology. Magnetic components are hidden under the cooktop surface which heats up the cookware. This method of cooking heats up not only the bottom of the pots and pans, but also heats the entire vessel. Food is thus cooked evenly and faster.
It's one of the kitchen appliances of the future using iOT, which would completely transform your experience of cooking. Instead of turning over the pages of a recipe book, or checking a recipe on your phone, the recipe, cooking information would be beamed directly onto the counter top.
Self-cleaning oven
Some of the best dishes are cooked or baked in ovens, but we do tend to avoid juicy steaks or other foods which leak juices at the thought of the cleaning up later on. Self-cleaning ovens from Accubake uses SteamClean technology which steams away grease without any harmful chemicals. In future, expect to see self-cleaning ovens which would clean the toughest of stains and grease.
Nano-articulated tech refrigerator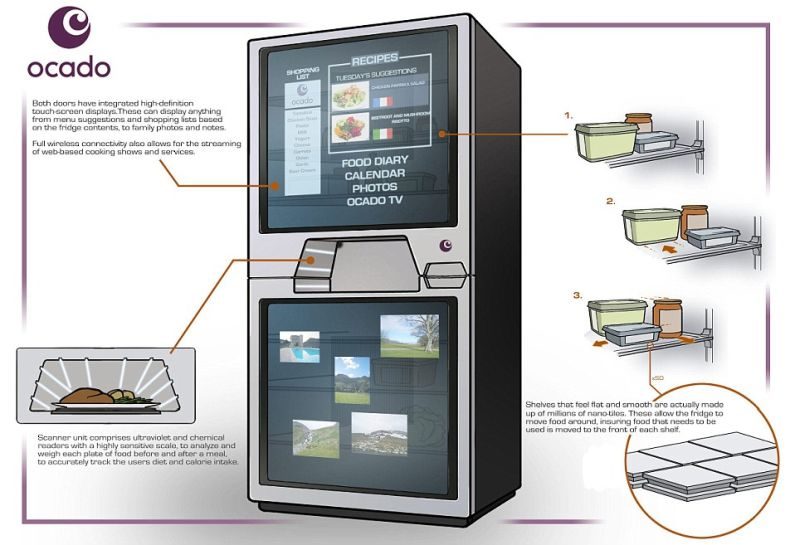 Image Source: i.dailymail.co.uk
Another of the kitchen appliances of the future is the nano-articulated tech fridge. It is another tech which will vacuum dirt inside the fridge and store it in a designated container. There are times when food goes bad because we forget about it – these cool fridges will 'push' the foods with shorter lifespans to the front of shelves so that you consume them on time, thus reducing waste. Some frigdes will tell you with the help of special sensors that some food is about to rot or go bad.
Porcelain/Quartz countertops
Granite and marble win hands down in today's choice of countertops. The look is gorgeous and maintenance is easy. But silently creeping onto the market are porcelain and engineered quartz countertops, and might easily become the most sought after countertop materials of future kitchens. Engineered quartz is especially desirable as it combines the best of both worlds – nature and man-made. Natural quartz as well as resins are combined to create a material which is as tough as granite, and has better resistance to impact. Another advantage it has is that it does not need sealing, which has made it quite popular already.
Porcelain too is being favored by many homeowners as it cannot be scratched, stained or burnt, and it looks beautiful. It does not show any fingerprints either.
Low maintenance, durable porcelain-quartz-glass blended tops are also an option now, being offered by the company Dekton in the US. It has the scratch/heat resistance of granite, and is perfect for both outdoor and indoor kitchens.
FutureHAUS kitchen has an induction cooktop which is integrated into porcelain countertops. These futuristic countertops have been shown at trade shows in Europe and are referred to as 'sintered compact surfaces'.
Wi-Fi connected dual wall oven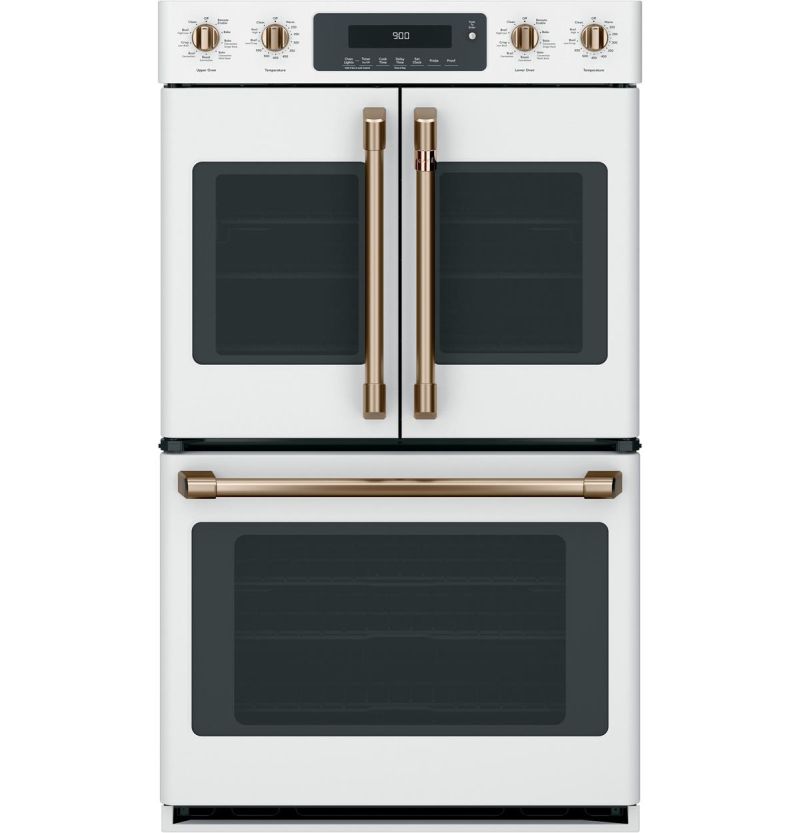 The days of perfectly cooked food are here, with kitchen appliances of the future such as the GE dual wall fitted oven. It uses the Advantium technology as well as harnessing the light power from halogen bulbs. The halogen bulbs are used to produce radiant heat, but the cooking process gets a microwave energy boost too. This results in faster cooking, while retaining their natural juices, thus resulting in an extremely tasty dish. The WIFI connection allows the oven to be connected to an app on the owner's phone, alerting him or her when their food is perfectly cooked and ready.
Nanotech counter
Every cook would love a countertop which would clean itself instantly. One of the kitchen appliances of the future  would be a countertop, built from certain materials to repel water as well as other stuff. The 'nanostructured' surface would push dirt off from the countertop, into a special compartment. The counter will be slightly angled so that gravity too will be acting to clean the counter.
Nutrition gauging gadget – Nutrima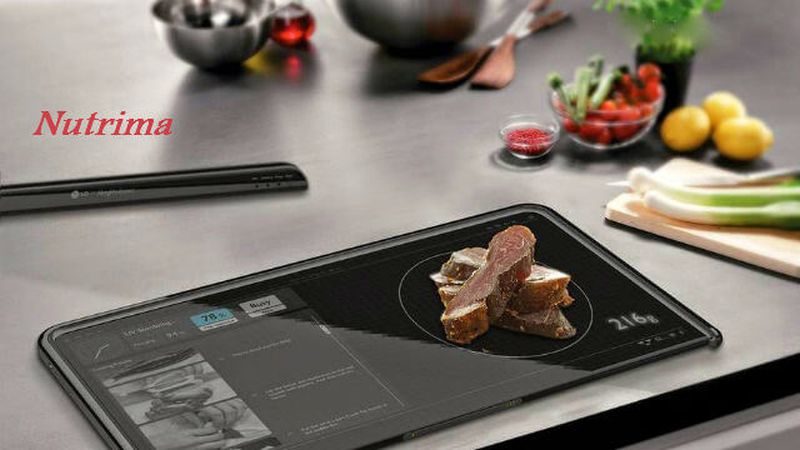 Image Source : systweak1.vo.llnwd.net
Talk about a futuristic, groundbreaking gadget designed to help you eat better. Nutrima is the name of this invention, invented by the Finnish designer Janne Palovouri. His aim is to help people eat healthy by determining the wholesomeness of the food they eat, without relying on the package instructions.
Nutrima can determine whether your leftovers have been left too long, or whether the ingredients you are using are as fresh as the package claims. It has a Nutrimapper app, which identifies the best market/shop to buy ingredients. Nutrima can be listed as one of the kitchen appliances of the future, but available right now!
Self-cleaning floors
You may be using upright vacuum cleaners or even mini robots to clean the kitchen floor, as they are as effective as traditional vaccums and take up much less space. But future kitchen floors would have suction devices which would vacuum the floors automatically, while you are cooking and afterwards, so that your floors are clean always. Forget about scrubbing the floors – you would have a much pleasanter experience of the entire cooking process when you don't have to worry about cleaning up.
Smart dishwashers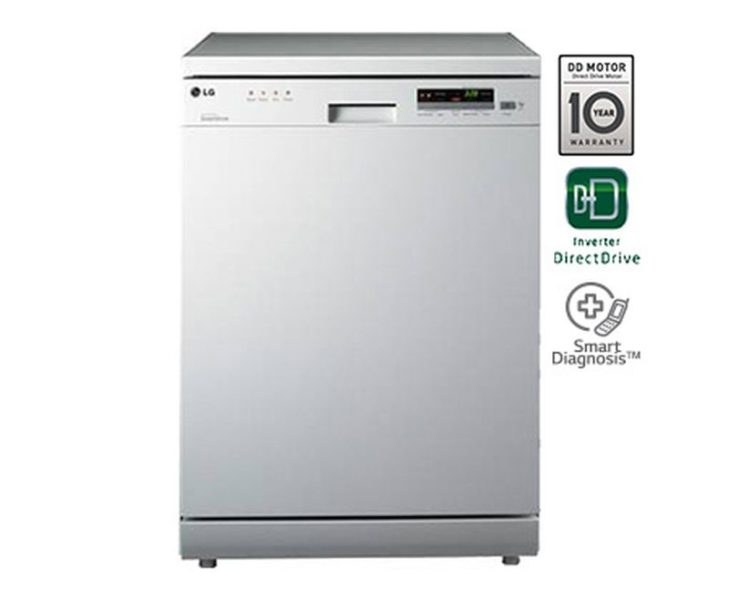 Most homes worldwide have dishwashers and it is one of the most desirable appliances. The dishwasher will be even more convenient as it would be one with Wi-Fi connection. The dishwasher would be connected to your smartphone with an app which would tell you how much time is left for a washing cycle to finish, or alert you about potential issues with the load or fault in the dishwasher. There are Wi-Fi connected dishwashers already available, which can monitor all aspects of washing dishes and signal leaks and so on.