Nowadays everyone thinks of some awesome out of the box ideas to decorate and give a unique look to their houses which are inexpensive too. People are coming up with various beautiful home decor ideas which enhance the beauty of the house without costing much to them and decorating the house with natural materials is one of these fantabulous ideas. These natural materials include natural stones, pebbles and wood river rocks. The river rocks and pebbles not only enhance and give a unique look to the interior of the house but they also provide an amazing beauty to the outdoors. Below mentioned are some of the home decor ideas with these natural stones and insights on how to use them effectively.
Giving a rustic look to the kitchen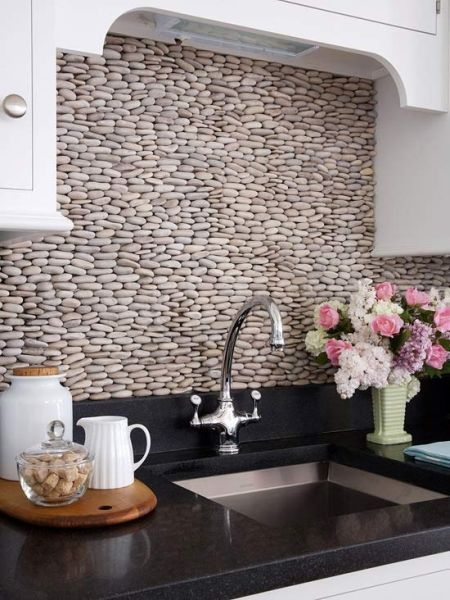 Using the river rocks on any part of kitchen wall or decorating one under the slab gives a rustic and a very unique look to the kitchen. The big ones can be used in a different stylish way and the small pebbles can also be used to give them a cool look.
Creating fabulous art work in children's room
The smaller pebbles can be used in the room of children to create different work of art. The art work can be in the form of any figures of animals, plants or cartoons. This can be a really fun way of engaging the children also apart from looking gorgeous.
Make your own artwork with river rocks
Love to be creative but looking for something new? Well, this idea may just work for you. As they say creativity holds no boundaries. So, why not let yours run wild. Create some amazing artworks using pebble rocks and see how things change. This is also one of the perfect ways to take up a new hobby if you want.
Using the river rocks to edge the garden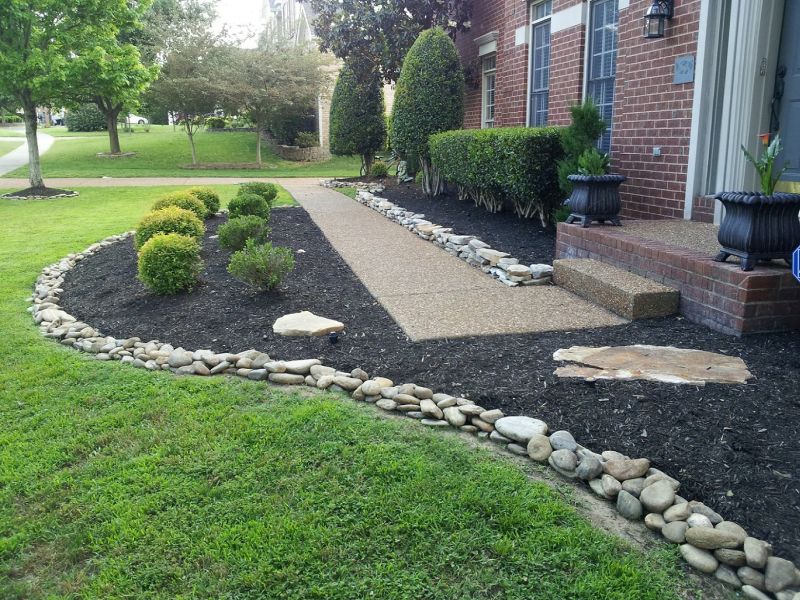 This is another cool idea to decorate the outdoors of your house. Realizing the garden edges with river rocks give a very beautiful look to the garden and the outdoors of house. You can choose to leave the natural color of the river rocks or paint them. Place these on the edges of your garden and make your very own pathway.
Dressing up your welcome mat at the door of house
Another unique idea is to dress up the welcome mat with smaller stones to be kept at the doorstep of the house. Placing and sticking the stones nearby on the mat will give a different and unique look to your mat and will let people wonder what is there inside the house. This can be done on mats of different sizes and shapes and you can create it yourself according to your choice of stones.
The river rock wall in the bathroom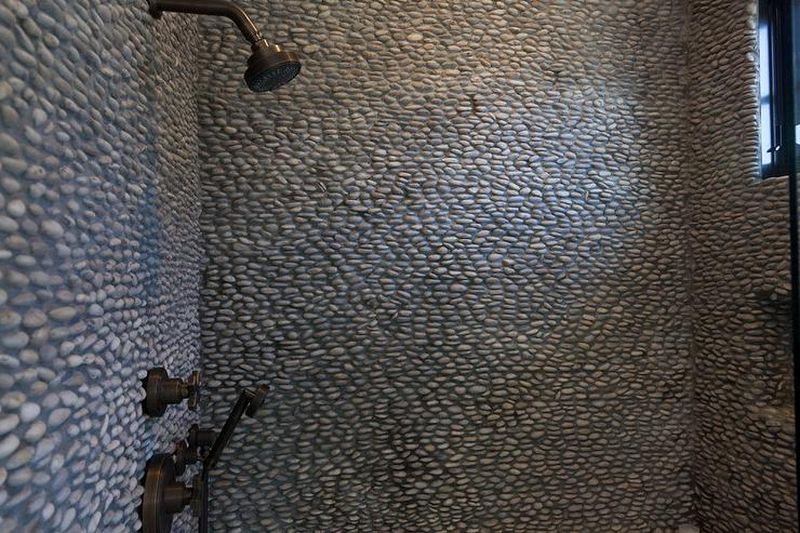 This will definitely enhance the beauty of your bathroom. Using river rocks on one wall of the bathroom where the wash basin and the mirror is installed will give a classy look. Just give it a try and see the difference yourself.
Preparing the make-up storage using small pebbles
Preparing a make-up storage box yourself by sticking small colourful pebbles will give a nice and unique look to the box itself along with enhancing the overall beauty of your dressing table.
Painting the pebbles and using as a decorative item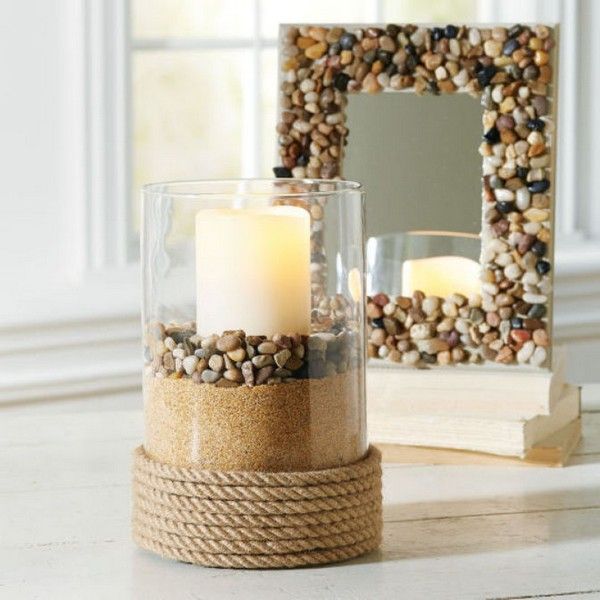 Take some river rocks and pebbles and paint half of them with one colour; and the other half with a different colour. You can also use golden and silver glitters to make them look shining and more beautiful. You can use this as a decorative item by placing it in a glass container. If you want, you can can also place this under the table or in your wardrobe.
Creating a beautiful waterfall using river rocks
This idea will give a classy yet amazingly beautiful look to the outdoors of your house. You can prepare a beautiful  artificial waterfall using big river rocks. This will be a perfect addition to your garden along with some artificial flowers and plants. Proper beautiful lighting can also be done which will serve as an icing on the cake.
Make a beautiful frame of river rocks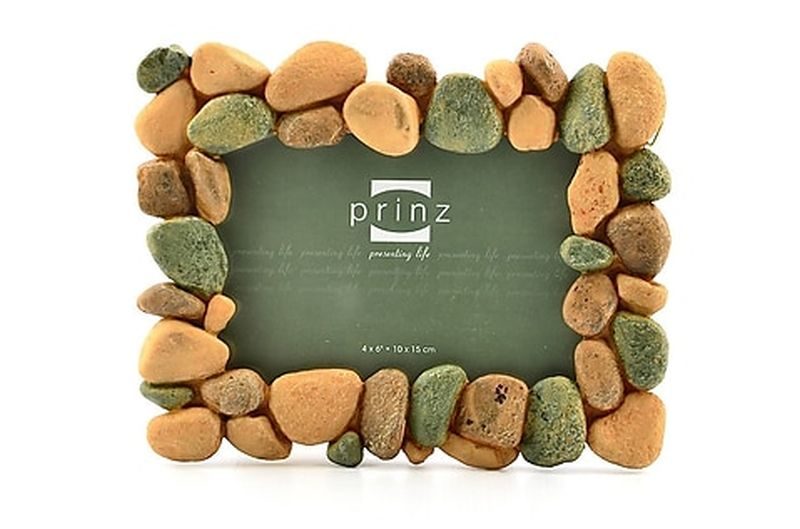 Image Source : staples-3p.com
Capturing memories in our camera is something we all do. Well, instead of easting money and buying a new photo frame; why not make one. You can use river rocks and create a beautiful and creative looking photo frame. All you need will be some glue, small wooden or cardboard sheets and river rocks. If you want you can also paint them and customize them the way you want.
Decorative Keepsake stones for your house
Why waste money on buying keepsake stones when you can make them. This DIY idea is a great way to keep your children busy and creative. Choose flat and long pebbles or stones so that they can paint on them.  You can take this idea to another level by using glow in the dark paints.
Make your own outdoor lighting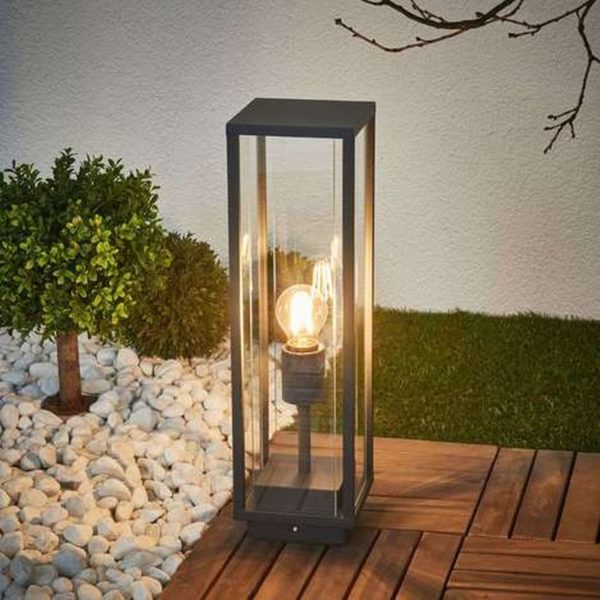 Image Source : cdn.manomano.com
Perking up your outdoors can be challenging but easy as well. In this idea, you can use pebbles to make your very own outdoor lights. For the base, you have choices like laminated wood or even tiles. You can choose to go with candles or a bulb holder depending on what you want. Adding river rocks or pebbles of different shapes and sizes will give the final touch to your light.
River rocks hooks are a perfect alternate
Tired of the same old boring hooks? Well, why not make your own. One of the creative ways to use river rocks is by making your very own hooks. The items you would need include paint (optional), a drilling machine / glue and hooks. Depending on the size of the river rock, you can place as many hooks as you want.
A stress relieving mat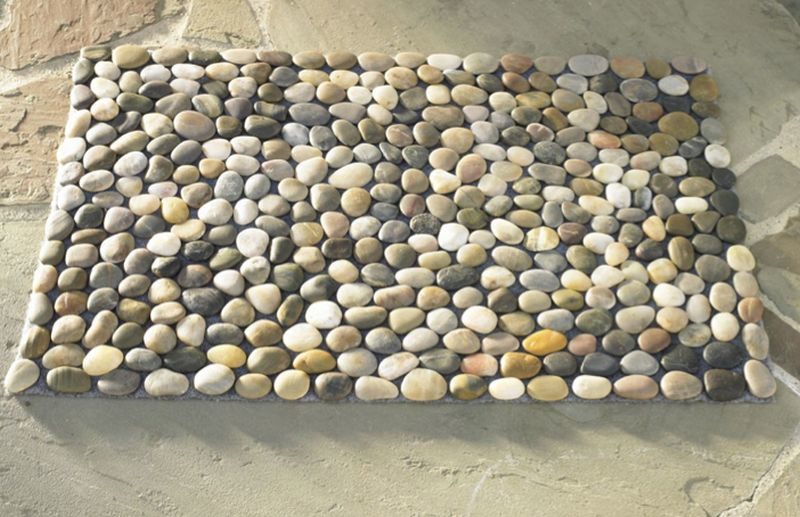 Image Source : craftlikethis.com
People who stand on their feet the whole day understand how much their feet can hurt. If you cannot go for a massage; why not make one massage mat at home. Stick River rocks with pointed but not sharp edges on a plastic mat. Just place this mat in a tub of hot water and gently give yourself a nice massage.  You can also make one for your back and just relax on it.
A table runner and hotplate set made from river rocks
If you love to host parties and family get-together's then having table runners and hotplates is natural. Instead of buying new one's you can make your very own table runners and hotplates using River rocks. These are not only long lasting; however, they are also easy to maintain.
Artificial fire pit / fireplace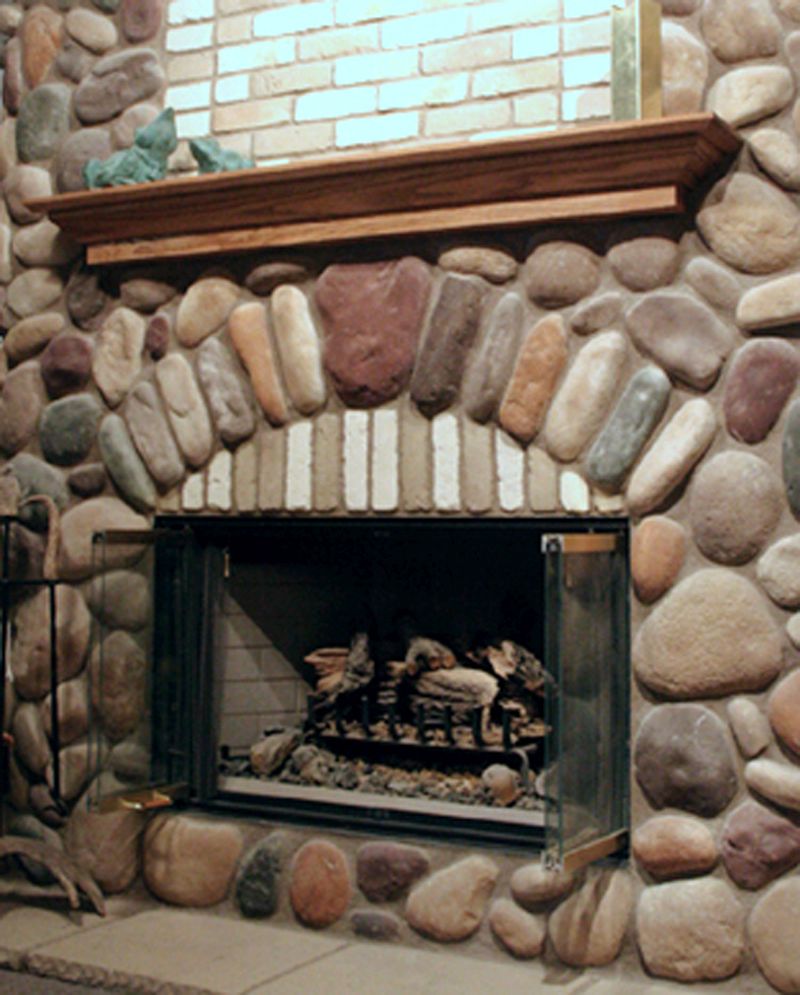 Image Source : prolinestone.com
Do you often wish that you had a fireplace even if you are not living in a country that has snow fall? Well, you can surely make one with sting lights, river rocks and some artificial wood. Another idea on this front is to make a small artificial fire pit for your backyard. This is a perfect way to spend an evening/night with your loved ones and camp out in the open in your backyard.
Summery
There are many ways to decorate your house with river rocks. Just by using scraps or everyday items at home; you can come up with innovative and decorative ways to transform the look of your home.