Karaoke is a great way to spend time at home, singing your heart out, alone or with friends and family. You can set up an impressive karaoke joint right in your home, using any one of the methods. Your karaoke station can be as elaborate or as simple as you want, depending on your budget and space. Check out this guide to build a karaoke room at home.
Guide to build karaoke room at home
1. Install the soundproofing

The first step is to install the soundproofing in the room, or else the whole house and neighborhood will know when you or anyone starts singing. The walls have to be soundproofed using foam insulation panels which are quite affordable and effective. These can be bought from the local hardware store.
Acoustic panels can be bought from electronics stores which would soundproof your karaoke roomand improve the sound quality. You'd really like how you sound, even if you song out of tune!
If you want to DIY it, you can buy 12×12 inches panels with 2 inches depth-curve relieve. This absorbs high as well as frequencies. Buy panels which have adhesive panels as this will make your job easier. If your panels don't have adhesive panel, then you spray glue to your walls and the ceiling. There is an option to soundproof the entire walls and ceiling or just portions of it.
Choose insulation panels made out of fiberglass and thin Mylar perforated facings. These panels are considered to be the best, and they give the best value for money to soundproof the karaoke room.
Soundproof the floors as well as ceilings with the same kind of panels, and some homeowners add some additional drywall layer with dampening glue. Floor can be covered with thick carpets over soundproof mats.
However, if you do not have a room underneath, then you do not need to soundproof the floor.
To completely sound proof the room, install the door sweep which is basically a rubber loop. It will block the empty space between the door and floor.
2. Karaoke system
A karaoke room has to have the karaoke system, that has players, speaker, mixer, amplifier and a touch screen. You will have to mount the karaoke screen so that the singer can see the lyrics easily. The mixer should be in a place which can be controlled easily by the DJ. Amplifier as well as the speakers can be anywhere in the room. It's a good idea to mount the speakers as they will not shake and provide the best acoustics. Most karaoke systems can be bought as one package.
All in one karaoke machines include microphones, mixer, preamp, microphone, speaker stands etc.
Instead of buying a separate screen and speakers, you can connect your mixer and amps and microphone to a TV.The TV already has speakers through which the music can be streamed and you can hear yourself through that. The lyrics can be read from the TV screen. If you wish, you can attach external speakers to the TV for additional volume.
3. Accessories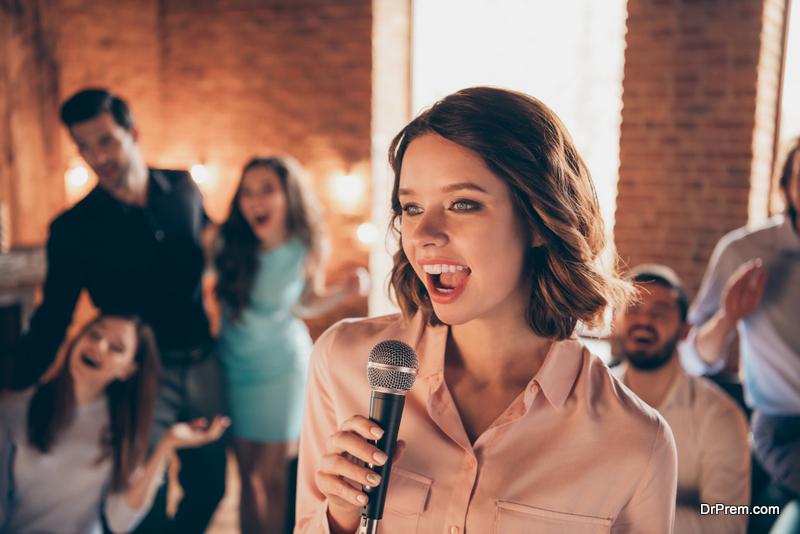 You'd have to buy two studio microphones at least for duets and the cords that go with them. Think of the types of music you usually like to sing, and get the accessories accordingly. Music stands are required and lights to make your karaoke room as special as a karaoke bar.Track lighting would look amazing.
4. How to karaoke without a machine
This is the easier and cheaper way for impromptu karaoke sessions at home, i.e. with the help of an Android or iOS smartphone. You don't need a karaoke room or anything, as you just need a phone and TV. You can go for mirroring or chrome casting your favorite YouTube videos on your TV. If the TV does not support this, then set top boxes such as Amazon Fire TV and Apple TV will make this work.
5. Download karaoke apps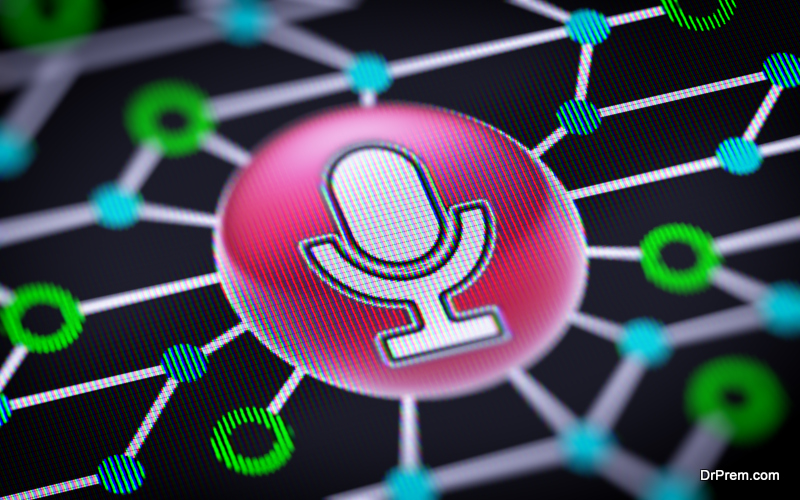 The easiest method to have a wonderful karaoke session at home is to download mobile apps. These apps can work on both Android and iOS apps. Two of the popular apps are The Voice: Sing and Connect and Sing! By Smule.
You can sing along with these apps, and they have a large selection of songs to sing from. There are effects like echo and reverb to make you sound better. Recording your singing efforts is possible too, and you can sing with the help of the phone's microphone. These apps allow you to karaoke without a machineand every app has a social media connection too, so that you can share your karaoke song with other people on the sites.
With the two apps, it's possible to record videos as well, and apply Instagram filters to the recording. The special effects like reverb and echo can be adjusted to your liking. The graphic displays of the notes would make you nostalgic as it resembles the displays of older Karaoke machines, which you may have seen growing up.
The apps can be used free of cost, but you can purchase VIP access to get rid of all the pesky ads which keep cropping up in between, and to access up to 2 million songs, special effects and so on.
Setting up a karaoke room is quite easy. Depending on your budget and your passion for karaoke, you can create an elaborate karaoke space or just sit on your couch and enjoy karaoke with smartphone apps.