All of you must have experienced the inconvenience caused when you have to go back and forth to your house during a backyard party or a garden party. On those days of nice weather when you want to spend all day out in the backyard, you all must have missed a backyard kitchen. Here are some unique backyard kitchen ideas so that your next such party is hassle-free and you can learn some interior design tricks and set up a backyard kitchen.
 Easy outdoor kitchen ideas at a glance:
1.   A Rustic kitchen design with a dishwasher and grill: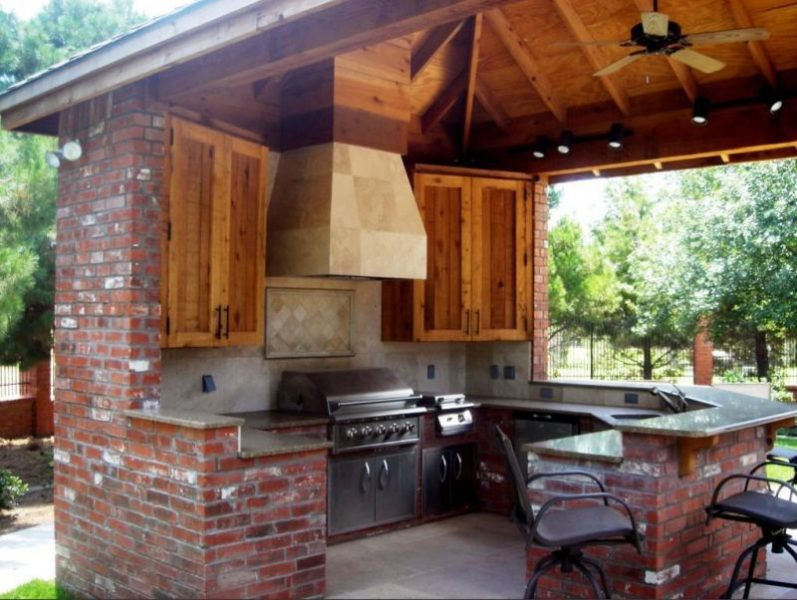 Image Source : butlerreview.org
This presents you with a shabby yet chic ambiance by using whitewashed bricks for adding to the antique texture. A brick flooring to this setup would blend in perfectly if you have a stonework under the bar area.
2.   For small spaces:
For those worrying if lack of space means you cannot have a backyard kitchen, this one is for you. All you need here is a glass water dispenser alongside a ceramic smoker styled grill. You can keep the appearance simple with a brownish hue and very minimalistic decorations so that the focus is on the grill and water dispenser. Beautiful and yet so simple!
3.   Clay pizza oven: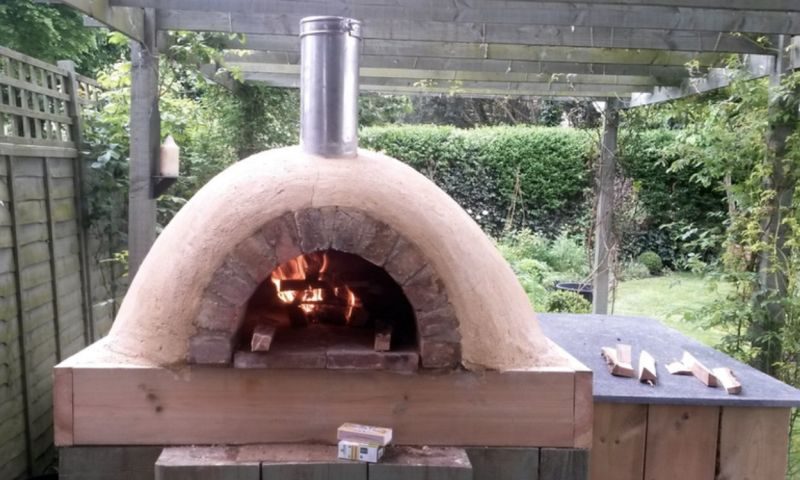 Image Source : wood-firedoven.co.uk
Which party is complete without a good pizza? Not only will it add warmth and provide the appliances of stainless steel with a golden glow, but it would also dish out your favorite food. It has an oven, big enough for a number of pizzas and you can also store wood in the space provided below. If this area is enclosed by adobe eves, the kitchen looks complete.
4.   Wooden kitchen with stony backdrop:
You may be living in a city and longing for the countryside feel. This kitchen model is suited perfectly to your needs with a grey wood base giving the vibes of a farmhouse. You can have a few small shelves built into the rocky wall and can throw in other accessories to suit your needs. You can top it off with a tin rood to provide it some permanence in the storms and rains.
5.   Patio kitchen equipped with a bar, mini fridge, and a sink: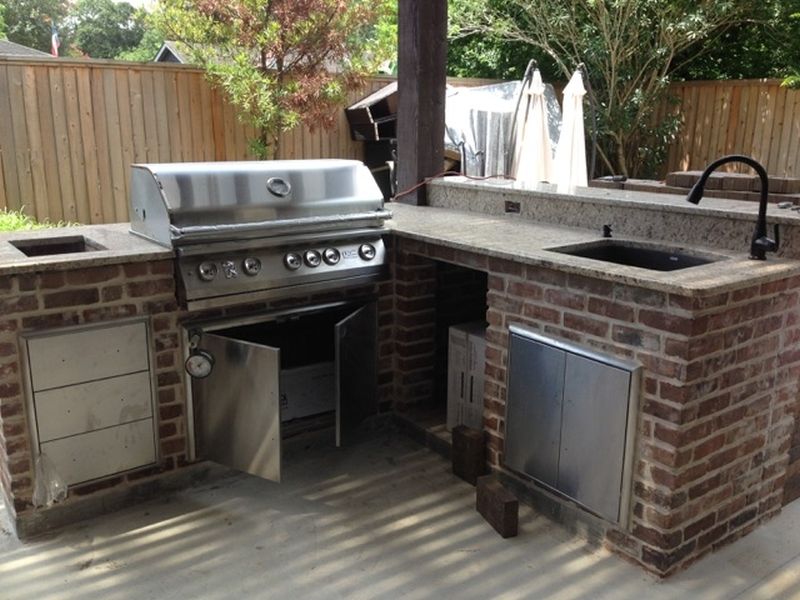 Image Source : texaspatiobuilder.com
If budget is not an issue then this is one of the best you can lay your hands on. This will help you with full-scale dining arrangements outdoors. This provides the guests sitting accommodation and helps you lay out dishes better with an extra deep counter helping you to serve or even prepare. The mini-fridge can house your favorite beverages and you hardly need to step into the house for anything.
6.   Patio kitchen comes living room:
This is among those outdoor kitchen ideas which will be your best bet in a night long party. The set is equipped with all comfort amenities like a couch and coffee tables. The arch-shaped giant pergola helps to transform the outdoor space into a real room. With a fireplace keeping you warm and also adding to the beauty, gatherings would never get better.
7.   DIY  Wood pallet sink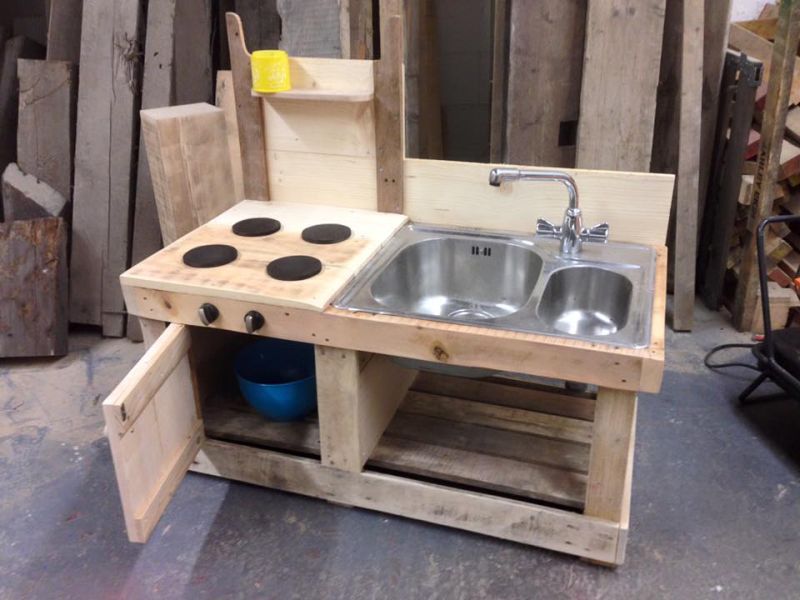 Image Source : louisvillerestore.com
This is one of those interior design tricks that would help you to build on a budget. You can use a pallet in Toronto and recreate the childhood games of mud kitchens. You can thus make a simple counter alongside the food preparing machinery. It makes for a fun casual sort of an ambiance and is great for a light-hearted party in the airy build.
8.   Tropical Gateway
Not only is this theme based outdoor kitchen idea unique, but it is also something you can build on a budget. Use natural stones smartly amidst a beach setup. If you attach draped pergolas to this setting it would make for a simple but classy appearance. Tropical foliage can finish this look off and make for the barriers, blending perfectly into the theme.
9.   Well-Outfitted Outbuilding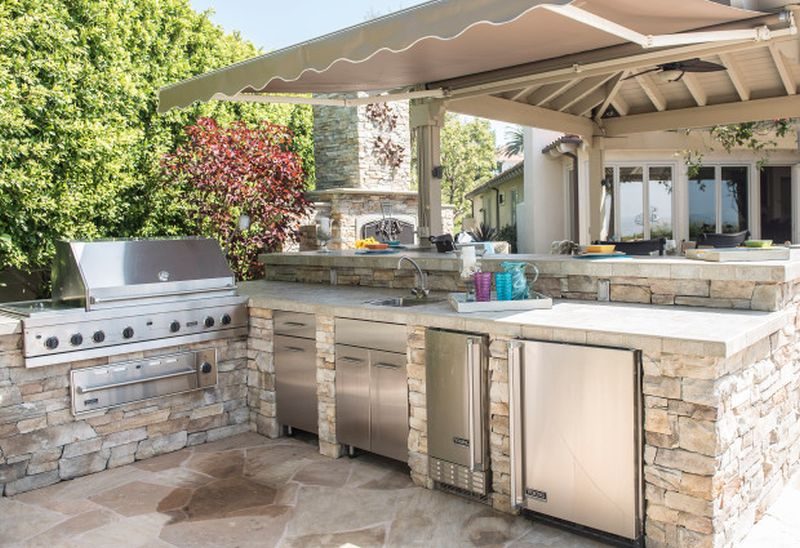 Image Source : ocregister.com
This is somewhat of an evolution of what we discussed in the Patio kitchen come living room. This is an even more comfortable and permanent arrangement, best suited for those who are willing to use it more often. While the sun and the breeze can still be enjoyed, the inclement weather and rains can be dealt with. Also, this setup has sitting areas, dining with kitchen offering you privacy from the neighboring yards.
Final Words:
Backyard kitchen makes your parties better and easier to handle. Follow these simple steps and you can enjoy a perfect day in the Sun with a bar-b-q party in style. And admit it or not, it does give the feel of an outdoor adventure in the absence of time to go for one. So turn these outdoor kitchen ideas to reality and thank us later.